The Benefits of Granite Tile and How to Install Granite Tile Kitchen Countertops
By Mark J. Donovan







Today almost everyone would like to incorporate granite kitchen countertops into their kitchen designs. However, solid granite countertops are very expensive and not all homeowners can afford them.

There is a lower cost alternative though that can enable more homeowners to incorporate granite into their kitchens. Granite tile countertops offer nearly the same look as solid granite countertops but at much more affordable material and installation costs.
In addition, granite tile countertops also offer the same beautiful aesthetics and functionality as solid granite countertops. Like solid granite countertops, granite tile countertops are nearly impervious to heat and are ideal for rolling out pie crusts and other baking activities.
Granite Tile Countertop Advantages
Granite tile for countertops use the same quarried granite material as solid granite countertops, however in smaller and thinner pieces. When granite is quarried not all material is large enough for fabricating solid granite kitchen countertops. However the smaller granite slabs can be used for other applications such as tiles. Granite tiles are commonly sliced into thin square tiles of various dimensions and used in flooring and wall applications, custom showers, and kitchen countertops.
Granite tiles come in a few standard dimensions including 12, 24 and 36 inch square dimensions.

Since granite is a natural stone there's nearly an unlimited variety of colors and tones to choose from, enabling a kitchen countertop color design scheme for any kitchen remodel.

Moreover, granite tiles can be purchased with different finishes.
In addition, due to the myriad of color choices, granite title countertops can work with any type of wood or cabinet style. Also, granite backsplashes can be included in the granite tile countertop design.
Grout Lines
Some people may be concerned with the grout lines associated with granite tile countertops, however the grout lines can be minimized in thickness and are sealed to prevent any staining.
Also, by picking grout colors that closely match the granite tiles, the grout lines can blend in with the granite. Many homeowners also elect to mix different size granite tiles, as well as colors, to create unique patterns in their granite tile countertops.
How to Install Granite Tile Countertops

To install granite tile on a countertop a ¾ inch plywood substrate is first installed and screwed down over the lower kitchen cabinets.

Note that it's important to make sure that the cabinets are perfectly level before installing the plywood substrate.

Cement backer board, either ¼ or ½ inch thick, is then screwed down to the plywood substrate. 
A thinset adhesive is then applied onto the cement backer board with a notched trowel and the granite tiles are placed into the thinset adhesive. A wet tile saw is used to cut the tiles.
If wrap-around tiles are to be installed around the kitchen countertop edge, a thin furring strip is attached along the perimeter underside of the plywood substrate. A cement backer board strip is then attached around the perimeter of the plywood substrate. The granite tiles that are placed around the outer-edge of the top surface of the countertop are positioned such that they overhang the edge of the countertop to a width equal to the width of the small tile edge pieces. The small tile edge pieces are then placed into the thinset adhesive and held in place with tape.
So if you're determined to have granite countertops in your kitchen, and you're on a tight kitchen remodeling budget, granite tile for countertops is a great solution. By keeping grout seams at a minimum and applying a high quality grout sealer to the seams on a periodic basis, you can have the look and durability of solid granite countertops at a fraction of the cost.
---
For information on installing a shower pan membrane liner for a ceramic tile shower, see the Shower Pan Membrane Liner Installation Ebook from HomeAdditionPlus.com.  The Shower Pan Membrane Liner EBook will quickly teach you the step-by-step process for installing the shower pan membrane liner correctly. It includes instructions on framing the shower stall, pouring the pre-slope and shower base mortar, and installing the shower pan membrane liner.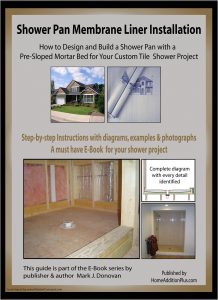 See HomeAdditionPlus.com's Ceramic Tile Calculator
See my "How to Tile a Custom Ceramic Tile Shower" Ebook to learn how to tile your own shower:  For a detailed set of instructions on tiling a shower floor and walls, including pictures for every step in the process, see my "How to Tile Custom Ceramic Tile Shower Ebook".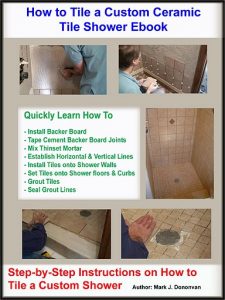 Related Information on Granite Countertops
---
Additional Ceramic Tile Resources from Amazon.com
---
Get Free Kitchen Remodeling Price Quotes with No Obligation!
Fill out our 3-5 minute quick and easy form, and receive a free price quote on a kitchen remodeling project from one of our pre-screened and licensed kitchen remodeling contractors. This process is free and there is no obligation to continue once you receive your kitchen remodel price estimate.