Insist on the Installation of Housewrap when Building a Custom Home
By Mark J. Donovan







When building a custom home it is important that the home be wrapped in a weather resistant barrier (a.k.a housewrap), prior to the installation of the exterior siding, to prevent water damage and air infiltration.

Housewrap, such as Tyvek and Typar, can easily be applied to a home's exterior sheathing with staples and a staple gun, and thus should always be installed. Housewrap plays a critical role in the protection of your home against water damage. 
Housewrap prevents water or moisture, which may have found its way through your home's siding, from penetrating further into your home's exterior sheathing. If water were to come in contact with your exterior sheathing, and allowed to accumulate, your home would become susceptible to rot and decay, insects, and mold and mildew damage.
Housewrap also works as a windbreaker by preventing air infiltration. Housewrap covers framing and exterior sheathing seams to prevent the penetration of wind and cold air.
Housewrap should be installed before the doors and windows have been installed. The housewrap should wrap completely around the door and window openings and should be tacked in on the inside of the door and window frames for maximum protection against leaks. All housewrap seams should be taped for maximum protection.

So when building your custom home, insist on the installation of housewrap. 
It will ensure that your home is energy efficient, protected from the elements, and warm and comfortable to your family.
---
For more help on building a home addition, see HomeAdditionPlus.com's Home Addition Bid Sheets. Our Home Addition Bid Sheets provide you with the knowledge and information on how to plan a home building project, and what to look for when hiring contractors. They also include detailed cost breakdown tables and spreadsheets for estimating your own new home construction building costs.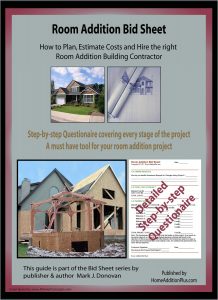 Related Information
---
Additional Framing Resources from Amazon.com
---
Free Home Addition Price Quotes with No Obligation!
Fill out our 3-5 minute quick and easy form, and receive a free price quote on a house addition from one of our prescreened and licensed home addition contractors. This process is free and there is no obligation to continue once you receive your home addition price estimate.