How to Pick Straight 2x4s
By Mark J. Donovan







Often when buying 2x4s from a home improvement center you see a wide range in 2×4 quality. It's not uncommon to find lower quality 2×4 boards that are bowed or twisted amongst the quality 2×4 pieces.

Likewise when you order a large volume of 2x4s to be delivered to your job site you inevitably end up getting some of these lower quality 2x4s.

Just because they are of lower quality, however, does not necessarily mean that they are unusable.
Often they can be used in a variety of framing applications where straightness and appearance is not as critical.
This said, when selecting 2x4s its best to pick out quality ones when possible, particularly for framing in doors and windows, and corners, where straight and plumb walls are critical. Also keep in mind that 2x4s actually measure 1.5 x 3.5 inches.
So what do you look for in a quality 2×4? Well first, check to see if the board is crowned, bowed, or twisted in any way. If it is, you may want to put it aside. To see if a 2×4 board has a crown turn it on its edge and look down the length of it for a hump.
Then roll the board over 180 degrees and again look for a crown on the opposite side. To check if the 2×4 board is bowed, turn it on its flat side and see if it is bent in any way.

While inspecting a 2×4 for crowning and bowing, also see if the board has any twists in it by again looking down the length of it. In addition, examine the end grain of the 2×4 to see if it has the potential to eventually twist.
If you can see vertical lines in the grain, then the 2×4 should be stable and not be apt to twist. 2×4 boards that are cut out of the center of the tree have the vertical band lines and are typically the most stable.
Also examine the edges of the board for damages. These defects are known as wane defects. Although not the prettiest of lumber, this lower quality 2×4 type is acceptable for using as packing studs up against straight door or window frame studs.
---
For more help on building a home addition, see HomeAdditionPlus.com's Home Addition Bid Sheets. Our Home Addition Bid Sheets provide you with the knowledge and information on how to plan a home building project, and what to look for when hiring contractors. They also include detailed cost breakdown tables and spreadsheets for estimating your own new home construction building costs.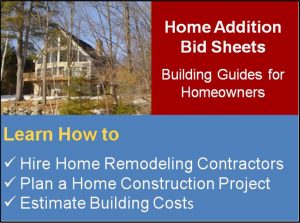 Related Information on How to Choose Straight Lumber
---
Additional Framing Resources from Amazon.com
---
Free Home Addition Price Quotes with No Obligation!
Fill out our 3-5 minute quick and easy form, and receive a free price quote on a house addition from one of our prescreened and licensed home addition contractors. This process is free and there is no obligation to continue once you receive your home addition price estimate.