How to Prevent Splitting Wood When Nailing
By Mark J. Donovan







In this video Mark Donovan of HomeAdditionPlus.com shows two techniques on how to prevent splitting wood when nailing it.

If you have done any carpentry work more than likely you have had the occasional problem of splitting wood when nailing it.

To prevent, or at least mitigate the chances of, splitting wood when nailing it I recommend the following tips.
First, nails have sharp points, thus making them easier to penetrate into the wood.
However, it is these sharp points that increase the likelihood of splitting the wood when nailing it. The sharp nail point acts like a wedge as it penetrates into the wood, thus causing the wood to split.
To prevent the nail from splitting the wood, blunt the end of the nail prior to hammering it into the wood.
You can do this by holding the head of the nail up against a firm surface and then tapping the sharp end of the nail with your hammer a few times.

Now, when you hammer the blunt nail into the wood it crushes the wood fibers and pushes them out of the way, thus preventing the wood from splitting.
The second thing you can do to prevent splitting wood when nailing it is to first drill a small pilot hole in the wood for the nail to slide through. Use a drill bit that is slightly smaller than the diameter of the nail and drill a hole into the wood the entire depth of the material. Then, blunt your nail before hammering it into the pilot hole.
---
Dress Up Your Home with Crown Molding – For specific instructions on installing crown molding see the "Installing Crown Molding Ebook".  The "Installing Crown Molding Ebook" will show you how to properly measure, select, cut and install crown molding like a professional carpenter.  It provides detailed instructions on every step in the process of installing crown molding and includes 28 instructional pictures! Order and Immediately Download today!. 100% Money-Back Guarantee if you are not satisfied.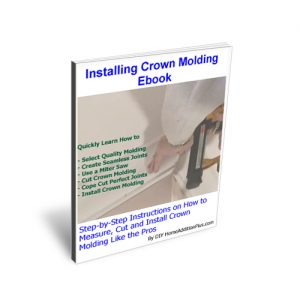 For information on installing Window and Door trim see HomeAdditionPlus.com's  Installing Interior Window Trim Ebook and  Installing Interior Door Trim Ebook.  These Ebooks are loaded with pictures and provide easy to understand, step-by-step instructions, on how to install interior window and door trim.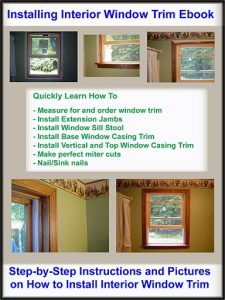 Related Information on Finished Carpentry Projects
---
Additional Finish Carpentry Resources from Amazon.com
---
Free Home Addition Price Quotes with No Obligation!
Fill out our 3-5 minute quick and easy form, and receive a free price quote on a house addition from one of our prescreened and licensed home addition contractors. This process is free and there is no obligation to continue once you receive your house addition price estimate.