Tips on Installing Chair Rail
By Mark J. Donovan







In this video, Mark Donovan of HomeAdditionPlus.com shows how to install chair rail.

Installing chair rail is a great way to add beauty and functionality to a room. Chair rail works great in any room, however it is perfect for kitchens and other rooms where chairs could inadvertently bump up against the walls.

When installing chair rail it is best to work in either a clockwise or counterclockwise direction.
In general the bottom edge of the chair rail should be located 32 to 36 inches off the floor of the room.
Prime and paint, or stain the chair rail before fastening it to the walls. You'll save yourself a lot of time by following this tip.
A finish nail gun helps to make the job go much more quickly and ensure a professional job.
When installing chair rail with a finish nail gun use 2-1/2 inch nails. If using a hammer and nails, use 8d finish nails and a nail set to countersink the nails.
For the inside corners, use a miter saw and coping saw. Coped corner cuts ensure a perfect 90 degree angle chair rail corner, even if the walls are not.

After installing the chair rail to the walls, fill the nail holes with spackle. Then go back and apply paintable caulk over the top edge seam and immediately wipe the excess caulk off with a moist paper towel.
Finally, touch up paint the chair rail to complete the project.
---
Dress Up Your Home with Crown Molding – For specific instructions on installing crown molding see the "Installing Crown Molding Ebook".  The "Installing Crown Molding Ebook" will show you how to properly measure, select, cut and install crown molding like a professional carpenter.  It provides detailed instructions on every step in the process of installing crown molding and includes 28 instructional pictures! Order and Immediately Download today!. 100% Money-Back Guarantee if you are not satisfied.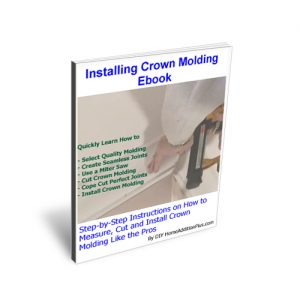 Related Information on Installing Chair Rail and Finish Carpentry
---
Additional Finish Carpentry Resources from Amazon.com
---
Free Home Addition Price Quotes with No Obligation!
Fill out our 3-5 minute quick and easy form, and receive a free price quote on a house addition from one of our pre-screened and licensed home addition contractors. This process is free and there is no obligation to continue once you receive your house addition price estimate.