How to Repair Drywall Seams
By Mark J. Donovan







Question: Mark, I am finishing a back room in my home and I found your website via YouTube (www.youtube.com/HomeAdditionPlus) on how to tape and float drywall. Your video on how to repair drywall holes was very helpful too. Thanks for the help.

However, I still have one problem. One of the walls in my back room was already finished when we moved in. It was already painted and molding installed. The problem is that I can still see the drywall seams through the paint. 
Do you have any advice or information on your site as to how to repair a drywall seam. Thanks for any advice that you can provide. (JS)
Answer: JS, Cracks in drywall seams is a common problem that can easily be corrected, but admittedly with some work and mess required. Drywall seams can crack for a number of reasons. Drywall seams can crack because there was insufficient joint compound used when originally taping and mudding the seams, or if insufficient drywall nails or screws were used when installing the drywall. Also, just from the home naturally settling cracks can form.
One of the major advantages of drywall and joint compound is that with a little patience and practice you can usually achieve good results repairing drywall seams.
Repairing Drywall Seams

First, drywall is purposely manufactured so that there is about a 32nd of an inch depression on the long sides of it. This depression is to allow space for the tape and joint compound when taping and mudding the horizontal seams, which normally are the most potentially visible seams.

If the taping and mudding are done properly the seams should flare out about 5 to 6 inches on either side of the actual joint seams between two adjacent drywall panels, for a total seam width of about 10 to 12 inches.
The slight 32nd of an inch depression, in the process, should be filled in with the tape and joint compound to achieve an overall flush finish with the rest of the drywall panel.
To repair drywall seams and to resolve your problem, rough up the joint area with 100 grit sandpaper so that you can create a good bonding surface for applying additional joint compound. Use a rag to dust off the seam.
Next, use a 10″ wide trowel and apply a couple of coats of joint compound over the drywall seam, applying a slightly heavier amount at the midpoint of the seam and flaring out at the edges. Allow the joint compound to thoroughly dry between applications of joint compound. When applying the final coat of joint compound, known as the skim coat layer, flare out the seams so that they are approximately 10-12 inches wide.
After applying a couple of coats of joint compound to the drywall seams, sand the edges smooth with drywall sanding screen or sandpaper so that they blend in with the surrounding drywall surfaces. Wipe the dust off the wall and then apply a primer and paint.

Repairing Failing Drywall Taped Seam

If the tape is literally peeling away from the drywall seam, then slice down the middle of the taped seam with a utility knife and rip the tape off the wall. Then rough up the surface with sandpaper. 
Next apply a thin coat of joint compound over the seam and then imbed new drywall tape into the mud. Apply a thin layer of joint compound over the tape and allow it to fully dry. Use a 6" wide drywall taping knife to do this step.
Alternatively you can use mesh tape. Mesh tape has a sticky surface so you can affix it directly to the seam without needing to first apply a thin layer of joint compound.
Apply two additional coats of joint compound over the newly taped drywall seam, flaring out the seam a little wider with each new application. Use a 10" wide drywall knife for applying these two coats and again make sure you allow the joint compound to fully dry in between applications.
After the third application of joint compound has thoroughly dried, use drywall sanding screen or sandpaper to flare out and blend the edges into the drywall panels. Again, wipe the dust off the wall and then apply a primer and paint.
---
For information on repairing a large drywall hole, see the "How to Repair a Large Drywall Hole" Ebook from HomeAdditionPlus.com.  The "How to Repair a Large Drywall Hole" Ebook provides step-by-step instructions on how to repair your damaged wall so that it looks as good as new.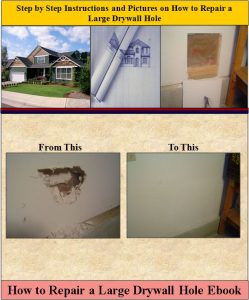 Related Information
---
Additional Drywall Installation Resources from Amazon.com
---
Free Home Addition Price Quotes with No Obligation!
Fill out our 3-5 minute quick and easy form, and receive a free price quote on a house addition from one of our prescreened and licensed home addition contractors. This process is free and there is no obligation to continue once you receive your house addition price estimate.