Acadiana Tool's Compass Guide Makes Short Work out of Measuring and Marking Cut-Out Areas in Drywall and other Materials
By Mark J. Donovan







In this video, Mark Donovan, of HomeAdditionPlus.com shows how to cut circular drywall holes using a Compass Guide from Acadiana Tools.

Cutting circular drywall holes can be a pain, particularly when it comes to marking the circular hole on the drywall. Having a spare circular electrical box or a compass lying around in your tool box usually is a luxury most of us don't have.
And using a pencil and piece of string just isn't practical or fast.
So what's the best way to trace out a circle on a piece of drywall?
Well Acadiana Tools has got the answer. They've enhanced the power of the standard tape measure by incorporating a plastic guide with a stainless steel point on the end of it. They call it the Compass Guide.
The stainless steel point on the Compass Guide acts as a guide or pivot point for marking and assisting in all types of cuts, including circles, arcs and straight lines.

By pushing down on the plastic extender guide, the stainless steel point bites into the material so that you can swivel the Compass Guide to easily make arcs and circles.
After marking the circular mark with the Compass Guide, you can then cut out the circular drywall hole using a simple wallboard saw.
One final note on the Compass Guide. Most of us who do carpentry work often use a tape measure and our finger as a guide to mark straight lines on lumber that we need to rip.
Inevitably the lines are never perfectly straight and we occasionally catch a sliver in a finger as we run it along length of wood.

With the Compass Guide, non-straight lines and slivers are a thing of the past.

The stainless steel point acts as the perfect guide for running along the edge of the lumber, while a pencil up against the tape measure tab makes a perfectly straight line on the wood.





So if you need a new tape measure and want to get the most out of it in measuring and marking materials, take a look at the Compass Guide from Acadiana Tools. It's a simple yet very effective tool, as is the case with all of the greatest inventions.
---
For information on repairing a large drywall hole, see the "How to Repair a Large Drywall Hole" Ebook from HomeAdditionPlus.com.  The "How to Repair a Large Drywall Hole" Ebook provides step-by-step instructions on how to repair your damaged wall so that it looks as good as new.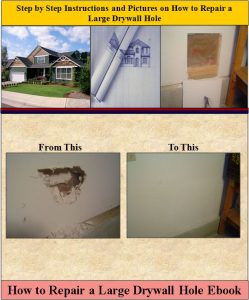 Related Information
---
Additional Drywall Installation Resources from Amazon.com
---
Free Home Addition Price Quotes with No Obligation!
Fill out our 3-5 minute quick and easy form, and receive a free price quote on a house addition from one of our prescreened and licensed home addition contractors. This process is free and there is no obligation to continue once you receive your house addition price estimate.