Steps for fixing a Door Latch that will not Latch properly
By Mark J. Donovan







In this video, Mark Donovan, of HomeAdditionPlus.com steps through the process of fixing a door latch that will not latch properly.

Do you have a door that just won't latch shut, even when you pull on it hard to close it, or pull up on it while pulling the door closed?  Often it is an easy task to fix this type of problem.
In the video below I show three suggestions on how to  fix a door latch that won't latch close. All require a few basic tools and will require about 15 to 30 minutes of your time.
The most simplest fix is to make sure all the door hinge screws are tight using a screw driver.

The second fix suggestion is to adjust the strike plate hole on the door jamb.

The last fix suggestion involves using a block of wood and a hammer to adjust the location of the door stop.
---
For information on how to install interior door trim, see the "Installing Interior Door Trim" eBook from HomeAdditionPlus.com.  The "Installing Interior Door Trim" eBook provides step-by-step instructions on how to install interior door trim. Pictures are included for every key step in the process.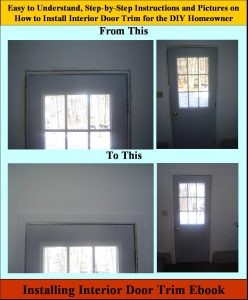 Related Information on Fixing Doors and Installing Doors
---
Additional Door Resources from Amazon.com
---
Free Home Addition Price Quotes with No Obligation!
Fill out our 3-5 minute quick and easy form, and receive a free price quote on a house addition from one of our prescreened and licensed home addition contractors. This process is free and there is no obligation to continue once you receive your house addition price estimate.