How to Check for a Shower Pan Leak
By Mark J. Donovan







There are two common types of shower pans used in today's modern homes. There are prefabricated fiberglass shower pans, and there are mortar based shower pans constructed using a flexible shower pan membrane liner.

A prefabricated fiberglass shower pan commonly can leak around the drain area. In addition, if something heavy was dropped into the shower pan, a minor crack could have been created.
A mortar based shower pan can also leak around the drain area.
However, if a mortar based shower pan is leaking it may be more likely due to either a failed shower pan membrane liner or an improper installation of it.
To determine if a shower pan is leaking, remove the shower drain grate cover and plug it with an expandable plug.
Then fill the shower pan with 1-2 inches of water and allow it to sit for awhile.
Make sure you record the height of the water in the shower pan using a marker. Wait a period of time and determine if the shower pan water level has dropped.

If the water level has dropped then indeed you have a shower pan leak. For fiberglass shower pans you can purchase an epoxy to seal any cracks. 
If, however, the drain assembly of the shower pan is leaking call a plumber. Repairing a shower pan leak around the drain area can be complicated.
If you have a leaking mortar shower pan, then again you will need to call a plumber. Repairing a leaking mortar shower pan requires extensive work, as the entire shower pan will need to be removed and replaced.  Unfortunately this includes removing ceramic tile in the shower pan and along the lower portion of the shower walls.
---
For help on your bathroom remodeling project, see my Bathroom Remodeling Bid Sheet. The Bathroom Remodeling Bid Sheet provides a request for quote checklist section that you can provide to prospective bathroom remodeling contractors. It also includes a comprehensive bathroom remodeling cost breakdown table, in Microsoft Excel format, that allows the contractor to include his projected remodeling costs for every phase of the project.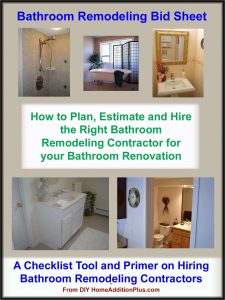 Related Information Shower Pans, Showers and Bathtubs
---
Additional Bathroom Remodeling Design Resources
---
Get Free Bathroom Remodeling Price Quotes with No Obligation!
Fill out our 3-5 minute quick and easy form, and receive a free price quote on bathroom remodeling from one of our prescreened and licensed bathroom remodeling contractors. This process is free and there is no obligation to continue once you receive your bathroom renovation price estimate.