Frameless Glass Shower Doors Offer Many Advantages over Framed Glass Shower Doors
By Mark J. Donovan







Frameless glass shower doors have been steadily growing in popularity in recent years for a variety of reasons.

Besides offering both beauty and charm to a bathroom they offer many functional advantages. In the past few years I have installed two frameless glass shower doors in my home.

Though fairly expensive, frameless glass shower doors offer many advantages over the shower rod and curtain approach, or a framed glass shower door.
Frameless glass shower doors work well for both large and small bathroom designs. In addition, there are frameless pivot shower doors and frameless sliding shower doors, so there is a frameless shower door type for any custom shower design shape.
Frameless Glass Shower Doors Show off the Ceramic Tile Shower
If you have a custom ceramic tile shower, a frameless glass shower door is the way to go.
A frameless glass shower door allows the ceramic tile shower and its entire beautiful splendor to shine through. Frameless glass shower doors versus framed glass shower doors also help to make a bathroom feel larger than it is.
Frameless Glass Shower Doors Offer Accessibility

One major reason for the rise in popularity of frameless glass shower doors is accessibility. A frameless glass shower door offers easier entrance into a shower.

For tall people like myself, there are no top frame bars to have to duck under when stepping into the shower. 
Types of Frameless Shower Doors
Again, there are also a number of frameless glass shower doors options to choose from. There are hinged frameless glass shower doors, sliding glass shower doors and even bifold ones.
There is a frameless glass door style for any type of shower accessibility desired. The shower glass itself also comes in a variety of options varying from transparent to heavily frosted.
Frameless Glass Shower Doors Require Less Maintenance
Cleaning frameless glass shower doors is a breeze. Simply spray on a shower cleaning solution and wipe down the glass with a cloth. Using a squeegee after each shower is also a simple way to continuously maintain glass shower doors.
Unlike framed glass shower doors there are no glass / metal seams where water can collect. As a result, mold and mildew growth is less of a concern with frameless glass shower doors. In addition, there is no threat of rust or corrosion with frameless glass shower doors.
Frameless Glass Shower Door Construction and Insulation

Frameless glass shower doors are constructed out of thick durable glass so they are highly resistance to breaking or cracking.

Frameless glass shower doors are installed via minimal hardware that is mounted into the sides of the shower stall.

It is important, however, that the hardware is fastened into wall studs behind the shower walls so that that the shower glass is properly supported. Any flexing of the shower door glass hardware could cause the shower door to not function properly.

Get this "How to Tile a Shower" eBook with step by step tiling instructions and pictures.
The process of installing a frameless glass shower door starts with a shower door installer coming out and measuring the shower door opening.
During the visit the installer will discuss the various frameless shower door options and the types of hardware required for each. Usually within a few weeks the glass doors will be ready for installation.
In some applications one or more sections of the frameless glass shower door unit will be fixed.

After the fixed hardware and glass panels are mounted in the shower stall, a clear silicone sealant is applied around the seams to prevent water leaks and to keep the fixed glass panels from moving.

The moveable glass shower panel(s) is installed last.
Again, they are mounted to hardware that is attached to the fixed glass shower panels or the shower walls.
Where the non hinged edge closes a clear plastic strip is installed to create a seal and to prevent the glass shower door from swinging beyond its designed range of motion.
Frameless Glass Shower Door Costs
Frameless glass shower door costs are quite high. You can easily expect to pay north of $1,000 for even a small frameless glass shower door. Larger ones can cost upwards of several times this figure. It depends upon the amount and type of glass used, and the particular shower door style required. Finally, it is important to remember that frameless glass shower door installations are typically custom projects, and thus part of the reason for the high price tag.
---
For help on your bathroom remodeling project, see my Bathroom Remodeling Bid Sheet. The Bathroom Remodeling Bid Sheet provides a request for quote checklist section that you can provide to prospective bathroom remodeling contractors. It also includes a comprehensive bathroom remodeling cost breakdown table, in Microsoft Excel format, that allows the contractor to include his projected remodeling costs for every phase of the project.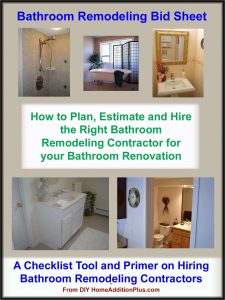 Related Information on Shower Door Types and Tiling Showers
---
Additional Bathroom Remodeling Design Resources
---
Get Free Bathroom Remodeling Price Quotes with No Obligation!
Fill out our 3-5 minute quick and easy form, and receive a free price quote on bathroom remodeling from one of our prescreened and licensed bathroom remodeling contractors. This process is free and there is no obligation to continue once you receive your bathroom renovation price estimate.