How to Plan for Your Bathroom Remodel so that You Don't Blow Your Budget
By Mark J. Donovan







Estimating the cost of your bathroom renovation plans is dependent upon two main things, who's doing the work and how many big ticket items you are planning to replace. Summarized below are some tips to help in estimating your bathroom remodeling costs and how to avoid blowing your budget.

How much to Expect for Bathroom Renovation

For the average size bathroom expect to pay anywhere between $7K and $15K, depending upon where you live in the country. 
In the southern part of the United States you'll pay closer to the $7K.
In the northeast or west, you'll pay closer to the $15K. Again, this is the average cost of a bathroom renovation project, and how much you're replacing and who's doing the work will impact the final cost. For example, if you are making the bathroom larger, putting in custom showers, and/or needing to modify the rough plumbing and electric, then expect to pay a lot more. Large high-end bathroom remodels can cost upwards of $20K to $30K.
Who is Managing the Project?

You'll need to hire a general contractor or be your own general contractor, the latter of which can be tough to do if you have no previous experience with remodeling and dealing with contractors. A general contractor manages the project, hires the sub-contractors, and in the end, delivers you the remodeled bathroom. 
If you plan to hire a general contractor make sure you check their references. Also, make sure you understand who is buying the materials; you or the general contractor.
General contractors typically get steep discounts for materials, but they often mark up their costs to the homeowner. You may want to compare the general contractor's materials costs with what it would cost you to buy them yourself.
Avoid Changing Rough Plumbing and/or Electric Wiring
Keep in mind that it is best, from a cost perspective, to leave the rough plumbing and electric wiring where it lays. For example, if you want to re-locate a toilet or tub, it will add significant cost to the project due to the extended amount of hours required by the plumber and the carpenter.
Bathroom Fixtures

If you can reuse the same toilet and keep it in the same location you'll save some serious money on your bathroom renovation.

Bathroom toilets can vary any where from $150 to $3,000. And again, relocating a toilet will add tremendously in plumber costs.

Sinks and vanities also can vary wildly in costs. But again, if you can keep the location of the sink the same, you'll prevent excess plumber costs.
Bathroom Lighting Fixtures
Bathroom light fixtures can vary wildly as well. However, a copious amount of lighting in a bathroom is vitally important.
Make sure to pick both work space lighting and general lighting when renovating your bathroom. Spend the extra money on getting the light fixtures you desire, but again, if you can leave the location of the lights where they currently are you'll save significantly on electrician costs.
Tile Adds Significantly to a Bathroom Renovation

Tile is beautiful; however, it comes at a steep price. A custom tiled shower alone can cost you several thousand dollars.

To save some money, but still include some tile in your bathroom remodel, consider tiling just the floor and use a standard drop in shower stall. Tiling a floor is also a relatively easy DIY project.
By thinking about the above items in advance, you can help to better estimate your bathroom renovation costs and not blow your remodeling budget.
---
For help on your bathroom remodeling project, see my Bathroom Remodeling Bid Sheet. The Bathroom Remodeling Bid Sheet provides a request for quote checklist section that you can provide to prospective bathroom remodeling contractors. It also includes a comprehensive bathroom remodeling cost breakdown table, in Microsoft Excel format, that allows the contractor to include his projected remodeling costs for every phase of the project.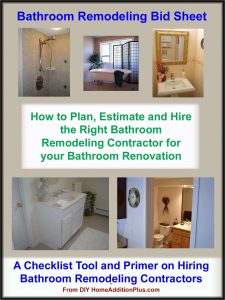 Related Information on Bathroom Remodeling and Saving on Remodeling Costs
---
Additional Bathroom Remodeling Design Resources
---
Get Free Bathroom Remodeling Price Quotes with No Obligation!
Fill out our 3-5 minute quick and easy form, and receive a free price quote on bathroom remodeling from one of our prescreened and licensed bathroom remodeling contractors. This process is free and there is no obligation to continue once you receive your bathroom renovation price estimate.