How to Determine the Right Slope for an O

ff Center Shower Drain Pan 
By Mark J. Donovan







Question: Mark, I've enjoyed your website over the years and purchased your Shower Pan Membrane Installation Ebook recently.

I have a question though in regards to my unique mortar shower pan that I'm installing.

Unfortunately the drain is not centered in the middle of the square shower pan and I was hoping you could give me a little guidance on how I should do the slope for this type of situation.
I think I want to make sure that the mortar shower pan is at the same finished height along the bottom of all the surrounding shower walls.
Answer: S.C. Glad to hear you've enjoyed HomeAdditionPlus.com over the years and that you're tackling a custom mortar shower pan project. Once complete you won't regret it. There's little that beats a custom tiled shower in terms of bathroom beauty and elegance.
In regards to figuring out the appropriate slope for your offset drain mortar shower pan, use the ¼ inch per foot slope that I recommended using in my eBook and apply this slope from the center of the drain to the shower wall that is furthest away from the drain.

Make a mark on this shower wall with a pencil, and then use a level to score a line all around the base of the shower walls that is level with this mark.

This will result in a slope that is steeper than ¼ inch per foot on the shower wall(s) closest to the drain, however it will ensure that the mortar shower pan comes to the same height on all of the surrounding shower walls. 
You can use your trowel to somewhat flare out and blend in the mortar along the steeper slope areas as you trowel out the mortar around the drain.
Good luck completing your off center shower drain pan / mortar shower pan liner installation and enjoy your new custom tiled shower.
---
For information on installing a shower pan membrane liner for a ceramic tile shower, see the Shower Pan Membrane Liner Installation Ebook from HomeAdditionPlus.com.  The Shower Pan Membrane Liner EBook will quickly teach you the step-by-step process for installing the shower pan membrane liner correctly. It includes instructions on framing the shower stall, pouring the pre-slope and shower base mortar, and installing the shower pan membrane liner.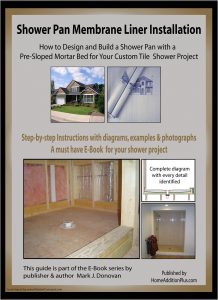 See HomeAdditionPlus.com's Ceramic Tile Calculator
See my "How to Tile a Custom Ceramic Tile Shower" Ebook to learn how to tile your own shower:  For a detailed set of instructions on tiling a shower floor and walls, including pictures for every step in the process, see my "How to Tile Custom Ceramic Tile Shower Ebook".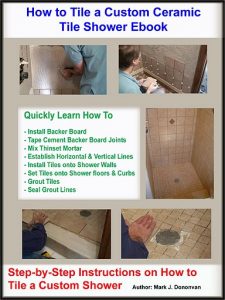 Related Information on Installing a Mortar Shower Pan and Tiled Shower
---
Additional Ceramic Tile Resources from Amazon.com
---
Get Free Bathroom Remodeling Price Quotes with No Obligation!
Fill out our 3-5 minute quick and easy form, and receive a free price quote on a bathroom remodeling project from one of our pre-screened and licensed bathroom remodeling contractors. This process is free and there is no obligation to continue once you receive your bathroom addition price estimate.