The Pros and Cons of Linoleum vs Tile for Bathroom Ceramic Floor Tiles and Linoleum Flooring
By Mark J. Donovan







You basically have two choices when it comes to bathroom flooring, linoleum vs tile ceramic floors. Wood flooring is too susceptible to water damage to consider in a bathroom.

Bathroom Ceramic Floor Tile

Bathroom Ceramic floor tile has a number of advantages over linoleum bathroom flooring. First, ceramic floor tile typically lasts longer than linoleum. Ceramic tile is very durable and typically will not crack unless you drop something heavy on it.
Ceramic tile also adds a touch of elegance to a bathroom that linoleum just can't beat. Bathroom ceramic floor tiles also come in a multitude of choices, including various shapes and sizes, as well as colors and patterns.
On the cons side, bathroom ceramic floor tile is a little bit harder on the feet, due to the unevenness of the ceramic tile caused by the grout lines. It can also be colder on the feet. In addition, bathroom ceramic floor tile is also a little more difficult to clean. Grout lines can become dirty and/or moldy.
As a result, bathroom ceramic floor tile needs to be cleaned more regularly and requires a bit more elbow grease.

The cost of a bathroom ceramic tiled floor is typically more expensive than a linoleum installation. Ceramic tiles typically cost more and require more labor to install them. This said many do it yourself homeowners can install bathroom ceramic floor tile themselves to mitigate costs.
Linoleum Bathroom Flooring
Linoleum is relatively inexpensive and cheaper to install versus a bathroom ceramic tiled floor.
However, bathroom linoleum flooring it typically not a do it yourself project. It requires precise cutting and some unique installation skills.
Linoleum bathroom flooring typically does not last as long, or is as durable as bathroom ceramic floor tile. This is particularly true if the linoleum bathroom flooring was installed after the bathroom fixtures and baseboard trim was installed.
If the linoleum flooring was installed after the bathroom fixtures and baseboard trim, curling at the edges of the linoleum flooring is a frequent problem.

Linoleum is produced by a number of manufacturers and is available in a plethora of patterns, colors and quality grades. As a result, in terms of choices it is pretty much on par with bathroom ceramic floor tiles.
Conclusions on Linoleum vs Tile Debate
In terms of comfort, linoleum is softer on the feet and typically feels warmer than bathroom ceramic floor tile.
Cleaning bathroom linoleum flooring is a breeze. All you need is a wet mop and a mild detergent to clean it. Unlike bathroom ceramic floor tile, there are no grout lines to worry about.
---
For information on installing a shower pan membrane liner for a ceramic tile shower, see the Shower Pan Membrane Liner Installation Ebook from HomeAdditionPlus.com.  The Shower Pan Membrane Liner EBook will quickly teach you the step-by-step process for installing the shower pan membrane liner correctly. It includes instructions on framing the shower stall, pouring the pre-slope and shower base mortar, and installing the shower pan membrane liner.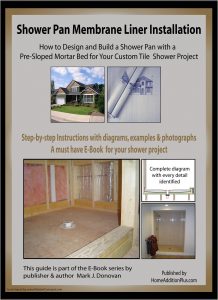 See HomeAdditionPlus.com's Ceramic Tile Calculator
See my "How to Tile a Custom Ceramic Tile Shower" Ebook to learn how to tile your own shower:  For a detailed set of instructions on tiling a shower floor and walls, including pictures for every step in the process, see my "How to Tile Custom Ceramic Tile Shower Ebook".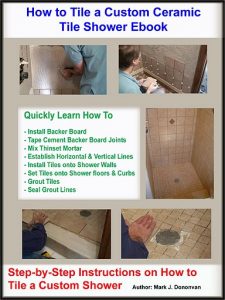 Related Linoleum vs Tile Ceramic Flooring Information
---
Additional Ceramic Tile Resources from Amazon.com
---
Get Free Bathroom Remodeling Price Quotes with No Obligation!
Fill out our 3-5 minute quick and easy form, and receive a free price quote on a bathroom remodeling project from one of our pre-screened and licensed bathroom remodeling contractors. This process is free and there is no obligation to continue once you receive your bathroom addition price estimate.