How to Install Home Siding, including Cedar, Masonite, and Vinyl House Siding
By Mark J. Donovan







Your home's exterior house siding can make or break the appearance of your home, however there are many different types of home sidings to choose from.

In addition, installing house siding on your own is frequently dependent upon your handyman skill levels as well as the type of home siding you plan to install.

Installing House Siding – Vinyl

Vinyl house siding is installed on more than 50% of new homes today as it is easy to install, low maintenance and inexpensive. 
Vinyl house siding comes in many different colors, textures and gauge thicknesses.
Though vinyl house siding is lightweight, easy to cut, and can be secured with hammer and nails, there is some craftsmanship required to install it properly. Thus, do it yourself vinyl house siding should be limited to the more experienced DIY homeowner.
Installing Home Siding – Wood
There are even more wood based house siding products to choose from than vinyl. Wood based home sidings include, but are not limited to Cedar siding, Masonite siding, and log and pine siding.
Most DIY homeowners with basic carpentry skills, and a little up front knowledge, can install wood home siding products themselves.

The tools required to install wood based siding products, such as Cedar or Masonite siding are typical of what most homeowners already have in their homes.

One suggestion, if you are planning to use wood house siding, buy wood house siding that is already primed, otherwise allow time to prime the material first (both sides) before you install it.

Installing House Siding – Aluminum and Cement Board

There are also other house siding materials to choose from including Aluminum siding and Cement board home siding. 




This "Patching Wood Siding" ebook provides step-by-step instructions, along with many instructional pictures.
Aluminum siding, however, has waned in popularity over the years, as it dents easily and is difficult to repair.
Also it requires unique craftsmanship skills to be installed correctly. Cement board home siding, on the other hand, is rapidly increasing in popularity due to its low maintenance, durability and appearance. However, it does require more expensive equipment to install, including diamond tip saw blades and pneumatic nail guns.
In this article we focus on installing Cedar or Masonite house siding.
Tools Required for Installing Home Siding

Table Saw

Chop Saw

Jig Saw

Hammer

Chalk Line

Carpenters Knife

Compass

Square

Measuring Tape

Ladders/Staging





Preparing for Installation of House Siding

Installing house siding starts with a home that is trimmed out and has been wrapped in a plastic moisture barrier.

The plastic moisture barrier helps to prevent heat loss while enabling moisture to pass through. The trim includes all outside soffits, exterior corner and base trim.
Drip flashing should also be installed above all doors and windows and on top of all base trim. The drip flashing, usually made out of aluminum in a z like pattern, rests on top of the door/window/base trim and rises up about 1 inch and is secured to the external house sheathing with nails.
Establishing chalk lines for the Installation of Home Siding Clapboards
Once the trim, moisture barrier and flashing are installed, horizontal chalk lines should be snapped every 3.5 to 4.5″ inches up the length of the exterior wall. These lines represent the reveal or width of the exposed house siding clapboards.
The establishment of the chalk lines should be started at the base of the house and progress upwards towards the roof. Make sure that the lines are level; otherwise you will wind up with slanting clapboards.
The housing siding clapboards should be installed relative to these snapped lines.
Installing House Siding Clapboards

A small spacer board should first be installed where the bottom house siding clapboard row will reside. The spacer board is a 1″ ripped length of clapboard.

Use the thinner/upper portion of the house siding clapboard for creating the spacer board. This will help to create a slant that will naturally occur with the other clapboard layers that lie above it.
Start the installation of the house siding clapboards at the bottom of the exterior house wall and work your way upwards towards the roof. The clapboards should be cut to length leaving approximately 1/16th to 1/8th of an inch (on each side) for expansion.
Note: the bottom house siding clapboard will rest on top of the drip flashing that curls over the edge of the base trim, and over the spacer board.
How to Nail Clapboard House Siding to Exterior Walls
Clapboards should be nailed using galvanized or stainless steal ring nails. Nails should be installed every 16 inches along the top and bottom of the entire length of the clapboard, making sure the nails are secured into wall studs. The nails should be secured into the clapboards about 1 inch from the top and bottom of the clapboard. Done properly, only the bottom nail will be visible in the finished product.
When you get to the final course of clapboard near the roof, you will need to rip the clapboard (cut along its length) to the appropriate width. Note: Be sure to measure and cut such that you remove the top of the clapboard, otherwise your top clapboard will have an uneven thickness relative to all of the others pieces installed.
To dress up the top house siding clapboard, install a small trim board (e.g. 3/4 x 3/4 inch trim piece) up against the top of the clapboard and the bottom of the soffit. This will help hide any unevenness that may exist due to the rip cut or imperfections in the soffit line.
Installing Clapboard House Siding around Obstructions

As you install the home siding you will run into mechanical and electrical obstructions, such as vents, pipes and electrical boxes and conduits.

Sometimes it is best to cut the siding such that the seam is centered on the obstruction.

Other times, it may make more sense to cut out for an opening on larger lengths of clapboard home siding.

Example of newly installed masonite house siding. All it needs is some paint to complete the project.
Installing House Siding around Doors and Windows
As with other obstructions, if you need to make cuts, it is best to create a seam that is centered over the window and door versus near the edge. It is more pleasing to the eye and will give a more finished looking product.
If you have arched doors and windows employ the use of a compass to score a line that matches the curve of the door/window with the specific house siding clapboard piece. Cut this edge first, and then make sure the curve of the clapboard cut matches the curve of the door/window. Then cut the other edge of the clapboard to the appropriate length.
Final Thoughts on Installing House Siding
Installing house siding takes time and it works best with two people, one for measuring and nailing, and the other for making the cuts. When installing home siding, you can never measure and check your lines enough. The worst thing you can do is to install house siding in a haphazard way. You do not want to wind up with clapboard lines that are crooked. Again, home siding will make or break your home's exterior appearance. Take time to consider what house siding is right for your home and take your time if you plan on installing it yourself.
---
Patching Wood Siding Ebook – If you require detailed instructions and pictures for patching wood siding see HomeAdditionPlus.com's Patching Wood Siding Ebook. This Ebook provides very detailed instructions, along with pictures for each key step in the process of patching wood siding.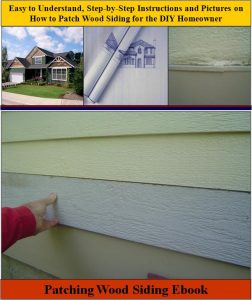 Related Information on Wood House Siding Installation and Repair
---
Get Free Siding Price Quotes with No Obligation!
Fill out our 3-5 minute quick and easy form, and receive a free price quote on home siding from one of our prescreened and licensed siding contractors. This process is free and there is no obligation to continue once you receive your home siding estimate.