The Pros and Cons of Single Handle Faucets and Dual Handle Faucets
By Mark J. Donovan







When it comes to

buying a new faucet

, whether it be a kitchen faucet or bathroom faucet, you typically find yourself asking which one is better, a single handle faucet or a dual handle faucet.

Single handle faucets and 2 handle faucets each have the pros and cons and it really depends upon how you plan to use it and what your personal preferences are.

See this faucet buying guide for tips on what to look for when purchasing one.
No matter what your preference, faucet manufacturers offer a wide variety of stylish faucets in each faucet type, so you're bound to find a faucet that will meet your functional and aesthetic requirements.
Two Handle Faucet Benefits

A two handle faucet provides more control than a single handle faucet, and thus allows you to better adjust the water temperature. In addition, a two handle faucet allows you to better control the water flow rate and to enable individual control of the hot and cold water.

Also, in the event one of the handles springs a leak, you can turn off the shut-off valve to the leaking handle and still have some ability to use the faucet until you fix the leaking handle.





See how to fix a leaky faucet here.
Two handle faucets are also less likely to cause accidental scalding since the handles are typically well marked for Hot and Cold water.




Two Handle Faucet Cons

Though two handle faucets have several advantages they do have a couple of cons. First, two handle faucets are a bit more complicated to install, as they require three holes to be installed in the countertop. Second, two handles increases the likelihood of an eventual handle leak.

Single Handle Faucet Benefits

Single handle faucets have become increasingly popular with homeowners because in general most people find them easier to use. Single handle faucets also offer a number of other advantages over dual handle faucets.
First, single handle faucets only require a single hole to be cut out in the countertop. Second, single handle faucet technology has improved to the point where they are capable of providing nearly the same level of control as the two handle faucet. Finally, there are some very stylish single handle faucets on the market today that can really make a bathroom or kitchen countertop pop.
Single Handle Faucet Cons

Single handle faucets have traditionally lacked the same level of control that 2 handle faucets offer. Single handle faucets can be found to be sloppy or mushy feeling when pushed to the ON position.

Typically it takes some practice to figure out the right position to orient the handle and achieve the desired water temperature and flow rate. Single handle faucets are also single points of failure.

If they begin to leak, you may have no choice but to shut off both the under-sink hot and cold water shut-off valves until you repair or replace the faucet.

Get this eBook for step-by-step instructions and pictures on how to install a new faucet.
---
For information on installing a shower pan membrane liner for a ceramic tile shower, see the Shower Pan Membrane Liner Installation eBook from HomeAdditionPlus.com.  The Shower Pan Membrane Liner EBook will quickly teach you the step-by-step process for installing the shower pan membrane liner correctly. It includes instructions on framing the shower stall, pouring the pre-slope and shower base mortar, and installing the shower pan membrane liner.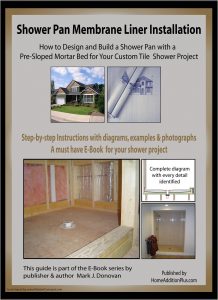 For information on how to tile a custom ceramic tile shower, see the "How to Tile a Custom Ceramic Tile Shower eBook" from HomeAdditionPlus.com. This eBook will quickly provide you with step-by-step instructions on how to measure and install ceramic tile in a shower, including the installation of tile on shower walls, floors and curbs. It provides detailed instructions for every step in the process of tiling a custom ceramic tile shower and is loaded with instructional pictures!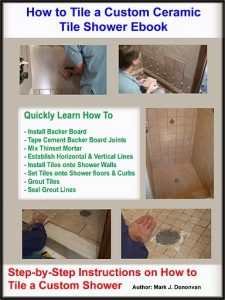 Related Information
---
Additional Plumbing Resources from Amazon.com
---
Get Free Bathroom Remodeling Price Quotes with No Obligation!
Fill out our 3-5 minute quick and easy form, and receive a free price quote on a bathroom remodeling project from one of our pre-screened and licensed bathroom remodeling contractors. This process is free and there is no obligation to continue once you receive your bathroom addition price estimate.