A Crescent Wrench is often all that is Needed to Fix a Plumbing Supply Line Leak associated with a Kitchen or Bathroom Sink
By Mark J. Donovan







Mark Donovan of HomeAdditionPlus.com shows how to fix a plumbing supply line leak caused by a leaking faucet valve in this video.

Often a plumbing valve sitting just underneath the kitchen sink or bathroom sink is the culprit behind a small plumbing supply line leak.

The large brass nut associated with the plumbing valve is typically the source of the leak.
When twisting this particular plumbing valve open and closed, to service the faucet for example, it's not uncommon for the large brass nut to become slightly loosened. As a result, a small plumbing line leak can occur around the nut. 
If you see mineral deposits around the nut, it's a sure sign that this is indeed the source of your plumbing supply line leak.
In addition, particularly with the hot plumbing supply line, due to the repeated expansion and contraction of the plumbing valve as it heats up and cools down, the nut can slightly loosen up over time.

As the nut slowly loosens up, a slow leak can form around the plumbing valve and nut assembly.

To fix a plumbing supply line leak of this nature, a crescent wrench or adjustable wrench is typically all that is required.
While holding the plumbing supply line securely with one hand use the crescent wrench to tighten the plumbing valve nut a quarter of a turn. Make sure to not over-tighten the nut or else you could damage the valve, and spring an even bigger plumbing line leak.
---
For information on installing a shower pan membrane liner for a ceramic tile shower, see the Shower Pan Membrane Liner Installation eBook from HomeAdditionPlus.com.  The Shower Pan Membrane Liner EBook will quickly teach you the step-by-step process for installing the shower pan membrane liner correctly. It includes instructions on framing the shower stall, pouring the pre-slope and shower base mortar, and installing the shower pan membrane liner.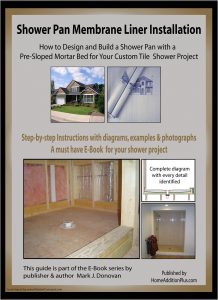 For information on how to tile a custom ceramic tile shower, see the "How to Tile a Custom Ceramic Tile Shower eBook" from HomeAdditionPlus.com. This eBook will quickly provide you with step-by-step instructions on how to measure and install ceramic tile in a shower, including the installation of tile on shower walls, floors and curbs. It provides detailed instructions for every step in the process of tiling a custom ceramic tile shower and is loaded with instructional pictures!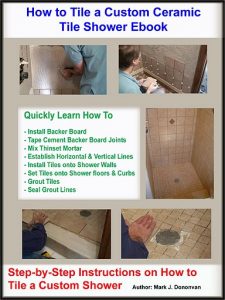 Related Information on Plumbing and Shower Pan Installations
---
Additional Ceramic Tile Resources from Amazon.com
---
Get Free Bathroom Remodeling Price Quotes with No Obligation!
Fill out our 3-5 minute quick and easy form, and receive a free price quote on a bathroom remodeling project from one of our pre-screened and licensed bathroom remodeling contractors. This process is free and there is no obligation to continue once you receive your bathroom addition price estimate.