Expansion Tanks are used in Heating and Domestic Hot Water Systems
By Mark J. Donovan







If you have a hot water heating system in your home then you probably have seen the 2 gallon bucket size tank hanging off the side of your boiler.

You will also find them hanging off of your domestic hot water system too.

How Hot Water Expansion Tanks Work

Hot water expansion tanks are used to protect your home's plumbing system by absorbing the excess water pressure that can arise when the water is heated or when a hot water faucet is turned off abruptly. 
How Water Expansion Tank Making Noise or Is It?
Also, if you live in an old house you might be familiar with a banging or hammer sound when you turn off the hot water faucet.
This banging sound is due to a sudden change in water pressure and is known as water hammer. Hot water expansion tanks prevent this water hammer effect that can lead to the potential damage of your hot water heating system or domestic hot water system.
A hot water expansion tank is usually about half full of air and half full of water.

The air and water are separated by a flexible diaphragm. As the water is heated the water expands upwards putting pressure on the diaphragm.
This pressure pushes the diaphragm upwards into the air portion of the tank, thus relieving the pressure in the closed heating system. The process works exactly the same for the domestic hot water system.
Troubleshooting a Hot Water Expansion Tank
Over time expansion tanks wear out. Typically the diaphragm breaks and water works its way into the upper half of the tank. When this happens the expansion tank fails to operate properly. When this occurs your hot water heating system or domestic hot water system are at threat of being damaged due to high pressure in the systems and water hammer effects.
How Water Expansion Tank Making Noise when Tapping on it?
You can determine if you expansion tank has a problem by tapping on it. It should sound hollow about half way up. If it does not, and instead you hear a thud sound when you tap on the upper half, then the expansion tank's diaphragm is probably damaged or not working. In addition, the tank should be warm on the bottom and cool on top if it is operating correctly.
You can also use an air gauge to check the air pressure in the tank. Expansion tanks should have a pressure of 12 psi.

If the pressure is low, you can try pumping it up and checking to see if it holds. Even it if does hold its pressure initially, it is more than likely temporary and you should seriously consider replacing it.

Another possible sign that the expansion tank has failed is if the pressure relief valve on the boiler begins to spurt water. 
This tells you that the pressure in the hot water system is too high, which could indicate that the expansion tank has failed.
Though they look like a larger static object that just hangs off your boiler system with no real purpose, expansion tanks indeed do play an important role in protecting your hot water heating system and your boiler. Consequently, it is a good idea to periodically check your boiler's expansion tank and make sure that it is in working order. If it is not, consider calling in a plumber.
---
For information on installing a shower pan membrane liner for a ceramic tile shower, see the Shower Pan Membrane Liner Installation eBook from HomeAdditionPlus.com.  The Shower Pan Membrane Liner EBook will quickly teach you the step-by-step process for installing the shower pan membrane liner correctly. It includes instructions on framing the shower stall, pouring the pre-slope and shower base mortar, and installing the shower pan membrane liner.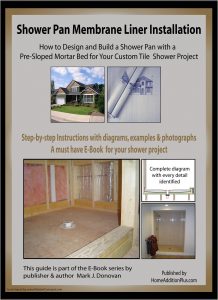 For information on how to tile a custom ceramic tile shower, see the "How to Tile a Custom Ceramic Tile Shower eBook" from HomeAdditionPlus.com. This eBook will quickly provide you with step-by-step instructions on how to measure and install ceramic tile in a shower, including the installation of tile on shower walls, floors and curbs. It provides detailed instructions for every step in the process of tiling a custom ceramic tile shower and is loaded with instructional pictures!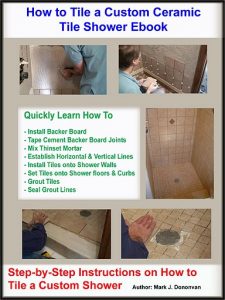 Related Information on How Water Expansion Tank Making Noise, etc.
---
Additional Plumbing Resources from Amazon.com
---
Get Free Bathroom Remodeling Price Quotes with No Obligation!
Fill out our 3-5 minute quick and easy form, and receive a free price quote on a bathroom remodeling project from one of our pre-screened and licensed bathroom remodeling contractors. This process is free and there is no obligation to continue once you receive your bathroom addition price estimate.