The Pros and Cons of Fiberglass vs Aluminum Ladders
By Mark J. Donovan







An extension ladder is a very useful tool to have around the home, particularly if you have a two story home. They are ideal for getting up on your roof and for house painting.

The main questions that comes up when searching for a ladder is what are the pros and cons of a fiberglass versus aluminum extension ladder, and what are the differences between fiberglass and aluminum ladders.

Fiberglass Extension Ladder Pros

Fiberglass extension ladders have a couple of key benefits over aluminum extension ladders. 
First, fiberglass extension ladders do not conduct electricity very well. Consequently they are the preferred choice for professional electrician and line workers. If you plan to be working around electricity then a fiberglass extension ladder is your best choice. Second, they are more durable and rugged compared to aluminum extension ladders. Fiberglass extension ladders will typically support more weight than an aluminum one.
Fiberglass Extension Ladder Cons

Fiberglass extension ladders have one major con, and it is in regards to fiberglass vs aluminum weight.

Fiberglass extension ladders are heavier than aluminum extension ladders. As a result, you may need to purchase a shorter ladder if you prefer a fiberglass one, and your reach applications will allow it.

Another lesser issue with fiberglass extension ladders is that ultraviolet light from the Sun can age and deteriorate fiberglass. 
Over time, a fiberglass extension ladder could begin to show small cracks due to the effects of ultraviolet light.
However, it takes many years before the structural integrity is compromised in any significant way. To slow the effects of ultraviolet aging you can store the fiberglass extension ladder inside, or cover it with plastic if you leave it outside.
Finally, fiberglass ladders typically cost a little more than aluminum extension ladders, typically in the 5-10% range.
Aluminum Extension Ladder Pros

Aluminum extension ladders are most commonly used by homeowners, because they are lighter and cheaper. Thus you can afford to buy a longer extension ladder, which may provide additional safety benefits over buying a shorter fiberglass one. There is less likelihood of overreaching, and consequently falling, when using a taller ladder.
Aluminum Extension Ladder Cons
Aluminum extension ladders have one major con. They are not as rugged and durable as a fiberglass extension ladder. Aluminum extension ladders have been known to literally fold up when overstressed with too much weight. Consequently it is important to pay close attention to the weight rating when purchasing an aluminum ladder. Make sure you spend a little extra money and buy the heavier rated aluminum ladder.
Yes, it may be a little heavier than the cheaper aluminum ladder, however it will provide more safety and will still be cheaper and lighter in weight than the fiberglass one.
---
See the Installing Interior Window Ebook from HomeAdditionPlus.com. The Installing Interior Window Trim Ebook provides easy to understand, step-by-step instructions, on how to install interior window trim around a window. Pictures are included for every key step in the process.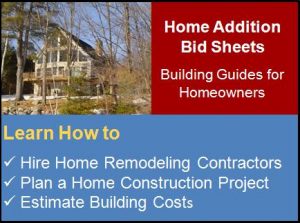 Related Information on Fiberglass vs Aluminum Ladders
---
Additional House Painting and Staining Resources from Amazon.com
---
Painting and Staining Price Quotes For FREE, No Obligation!
Fill out our 3-5 minute quick and easy form, and receive a free price quote on painting & staining from one of our pre-screened and licensed painting & staining contractors. This process is free and there is no obligation to continue once you receive your painting price estimate.