A Travel Back in Aviation History to See one of the First Large Commercial and Military Aircraft
By Mark J. Donovan







I recently flew my father up to Auburn-Lewiston, Maine airport (LEW) to see a Lockheed Constellation aircraft that had been sitting for years on the airport ramp. Though the aircraft was tied to concrete blocks and was pretty well gutted, it was for the most part still intact, minus the engines and propellers. My father worked and flew on Constellation airplanes for many years while he was in the United States Air Force back in the 1950's and 1960's, so I knew he'd get a kick out of seeing the plane up close and in person.

It was an early spring morning when we took to the skies in a Cessna 172 Skyhawk out of Concord, New Hampshire. The skies were partially overcast but the forecast was calling for sunnier weather as the day went on.
The cloud deck was between 6,000 and 8,000 feet and the weather briefer indicated the conditions between Concord, NH and Auburn-Lewiston, Maine were VFR, but that there was an AIRMET for possible icing below 12,000 feet.
The 7:30am departure out of Concord, New Hampshire was typical. Visibility was 10 miles, and the ceiling was at 6,500. The temperature was -1oC and the dew point was -3oC. I activated my flight plan just before takeoff. On takeoff roll at around 50 knots I began to pull back on the yoke. At 60 knots we were off the ground. As we built up air speed in ground effect I trimmed the Skyhawk to 76 Knots for VY (best rate of climb). I then contacted Boston Departure and asked for Flight following.
Once we reached my planned cruise altitude of 5,500 feet I leaned out the engine and settled down for a beautiful morning of sightseeing on our way up to Auburn-Lewiston, Maine. At 5,500 feet I could clearly see the White Mountains, and in particular Mount Washington out to the northwest. To my east, I could see the Atlantic Ocean. It was truly some magnificent views.

Halfway to our destination I started to notice a little spitting snow. I also saw that the cloud deck had seemed to descend a little bit.
We were still probably a 1,000 feet under the cloud layer, however I contacted Boston ATC Center and let them know I was going to descend to 5,000 feet to get a little further away from the clouds and avoid any concerns of icing. They responded to me to fly at an altitude of my discretion. A few minutes after descending to 5,000 feet the snow had stopped and visibility was still at least 40 miles.
The remaining flight up to Auburn-Lewiston, Maine was uneventful. I did find it funny however that a guy greeted us on the ramp and used marshalling hand signals and flashlights to direct us to a position on the ramp.
After chocking the Cessna Skyhawk we went in and had a coffee and bagel at the airport diner. The airport diner at this un-towered airport is unlike most other small airport diners. First of all, the terminal in which the airport diner resides is new and spotlessly clean. It is also pretty much empty. In some ways you feel like your entering a modern day hospital and hospital cafeteria.
Though the terminal looks deserted, once you walk into the airport diner you think you're in a different world.
It was loaded with people and waitresses were hustling all about. We were able to find a table, but 10 minutes later there was a line of people at the entrance waiting for a table. Also in the same period two other small airplanes landed; a Cessna 172 and a home built tail dragger aircraft of some sort. Both their occupants wound up in the restaurant too.
After finishing our light breakfast my father and I went out to the old "Connie" and took a stroll around it. We were able to walk right up to it on the ramp. It was like stepping back in time looking up at this huge old aircraft. The Constellation is unique in that it has three tail sections; however, this particular one was missing its center tail, along with its engines and nose cone. Looking into the wheel well areas of the aircraft you could see a little corrosion. This said, the aircraft was still in very decent shape for a plane that was probably built in the 1940's or 1950's.
My father fully enjoyed the experience and took a number of pictures and filmed some short videos of it. He also had some fun reminiscing with the ramp attendant about the old bird.
After spending about 20 minutes checking out the Constellation we headed back to our Skyhawk and prepared for the flight back to Concord, New Hampshire. Ten minutes later and we were departing Auburn-Lewiston, Maine.
The flight back to Concord, New Hampshire was uneventful. The clouds had pretty much dissipated. To the west there were virtually no clouds and the visibility was fabulous. However, it was interesting to note that all the lakes were still frozen over in Maine and New Hampshire, with the exception of Sebago, Lake in Maine. It was completely unfrozen. We couldn't understand why it was unique to all of the other lakes. All the mountain tops were also still covered in snow.
Approximately 40 minutes after departing Auburn-Lewiston, Maine we landed back in Concord, New Hampshire. Overall we were gone for about 3 hours, traveled over 146 nautical miles, had breakfast, and took a step back in aviation history. Not a bad way to spend an early spring Saturday morning with your dad.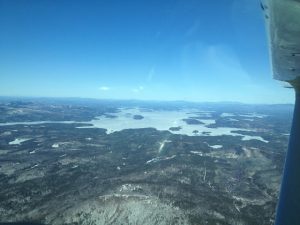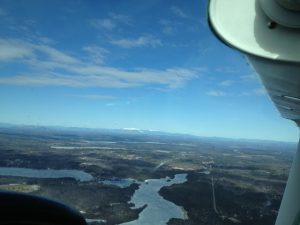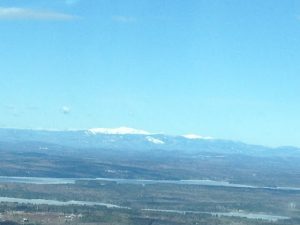 ---
Related Information
---
Additional Aviation Resources from Amazon.com
---
Free Home Addition Price Quotes with No Obligation!
Fill out our 3-5 minute quick and easy form, and receive a free price quote on a house addition from one of our prescreened and licensed home addition contractors. This process is free and there is no obligation to continue once you receive your house addition price estimate.