A Comparison of the Pros and Cons of Refacing and Replacing Kitchen Cabinets in a Kitchen Remodeling Project
By Mark J. Donovan







Remodeling your kitchen will typically cost between $20K and $50K, depending upon the size of your kitchen and what you want to include in it for new features.

One way to reduce the cost of a kitchen remodeling project is to reface the kitchen cabinets versus replace them.

Refacing kitchen cabinets is akin to having a face lift. Basically it's a process of doing a little nip and tuck and putting on some fresh make up. The end product looks quite nice, but underneath the new look is the existing structure.
Refacing Kitchen Cabinets
Refacing kitchen cabinets can vary in scope but typically involves replacing the kitchen cabinet doors and drawers, as well as the mechanical hardware on them.
Wood veneers are also frequently affixed to the exposed fronts and sides of the existing kitchen cabinetry. With some kitchen refacing companies they can also outright replace the entire drawer and drawer glide system to provide the proper functionality, however it does raise the cost somewhat.
Refacing, versus replacing kitchen cabinets, is often a good idea if you don't expect to live in the house for that much longer, e.g. another year or two.

If the mechanical aspects of the kitchen cabinets are functional, i.e. the drawers still open and close properly, it's typically the more affordable way to go.

The only real downside of refacing, versus replacing the kitchen cabinets outright, is that you don't have the opportunity to add the latest kitchen cabinetry features to your kitchen. 
However the costs savings can be so significant with refacing kitchen cabinets, for many people it's an acceptable compromise to forgo the benefits of the new cabinet features.
Replacing Kitchen Cabinets
Though refacing kitchen cabinets can save substantially on a kitchen remodel, replacing kitchen cabinets have many other advantages.
First, as I just hinted to, you can incorporate many of the latest kitchen cabinetry features in a new kitchen cabinet design. New features include built in wine racks, interior cabinet lighting, glass cabinet doors, and cabinet doors with rollout drawers, just to name a few.
Replacing kitchen cabinets, versus refacing them, also affords you the opportunity to completely change the floor layout of your kitchen and possibly integrate into it a kitchen island or breakfast bar.

Replacing kitchen cabinets also allows you to better utilize the existing space in your kitchen due to the improved efficiencies of today's modern kitchen cabinet design tools and cabinet features.

Installing new kitchen cabinets also comes with warranties, whereas with refacing kitchen cabinets, it's a much more nebulous situation.

Save money on your Kitchen Remodel with this Kitchen Remodeling Bid Sheet.
So before going out and spending a fortune on replacing your kitchen cabinets assess how long you plan to live in the home, and obtain quotes for both approaches. Then determine what makes the most financial sense, as well as provides you with the look and functionality you desire in your remodeled kitchen.
In some cases the cost savings of refacing the kitchen cabinets may be relatively small that it's a better investment to spend the extra money and simply replace the kitchen cabinets altogether.
---
For help on your kitchen remodeling project, see my Kitchen Remodeling Bid Sheet. The Kitchen Remodeling Bid Sheet provides a request for quote checklist section that you can provide to prospective kitchen remodeling contractors. It also includes a comprehensive kitchen remodeling cost breakdown table, in Microsoft Excel format, that allows the contractor to include his projected remodeling costs for every phase of the project.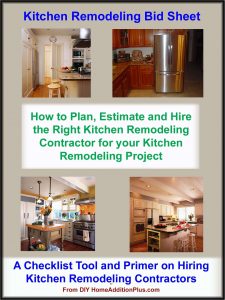 Related Information
---
Additional Kitchen Remodeling Design Resources
---
Get Free Kitchen Remodeling Price Quotes with No Obligation!
Fill out our 3-5 minute quick and easy form, and receive a free price quote on kitchen remodeling from one of our prescreened and licensed kitchen remodeling contractors. This process is free and there is no obligation to continue once you receive your kitchen renovation price estimate.