Planning and People Skills are Essential Ingredients in Building a New Home
By Mark J. Donovan







Whether you are hiring a general contractor or have plans to act as your own general contractor, new home construction is a major undertaking and is not meant for the weekend do it yourselfer.

Building a new home involves planning and attention to detail.

It also involves people skills, particularly if you are working as your own general contractor. 
There are many subcontractors required when it comes to building a new home, and hiring the right subcontractors and knowing how to work with them in an effective manner can be a real challenge. Without these specific skill sets your new home construction costs and schedule can quickly go up in flames.
Over the past 25 years I have hired many home construction contractors and subcontractors for building new homes and home additions. I have also acted as my own general contractor. I was burned along the way in some cases, but I also learned from my mistakes. Chief amongst my learning experiences is not only having a good set of construction blueprints, but also a well thought out and documented plan of action.




Attention to detail is really the name of the game. From finding and hiring the right subcontractors to selecting and costing out all of the building material for every aspect of the construction project.

New home construction costs can quickly mushroom when details are not worked out in advanced. New home construction costs can escalate due to many reasons including:
Making changes to plans, particularly after the work has already been performed.

Schedule slips that force you to scramble to find new subcontractors or pay premiums to already slated subcontractors that have yet to start on the project.

Delays in selecting key building materials, such as light fixtures, flooring and cabinetry

Lead times on home building material turn out to be longer than planned forcing work slowdowns, or even worse subcontractors stopping work and moving onto other projects
There are also factors beyond your control that can impact new home construction costs. These items include:

Rainy or Extremely cold or hot weather conditions

Delays in material lead times from home suppliers

Subcontractors that miss their agreed upon start dates
The trick with all of these types of items that could impact your new home construction project is to keep in regular communication with your subcontractors and suppliers and plan for contingencies. Do not assume the weather will be perfect and that there will be no cost overruns. Include in your schedule and new home construction budget buffers for time and money.
Typically I like to budget about 10% for each. If in the end the project is completed faster or you did not use the 10% contingency funds, then enjoy your new home sooner and buy yourself some new furniture for the home. People always seem to forget the need for adequate furniture when building a large custom home.
As part of new home construction costing and planning exercise it is important to write down all of the expected subcontractors required for the project. The list of necessary subcontractor types can be a couple of dozen or more when you consider the range and scope of a new home construction project. For example, a partial list of subcontractor trades would typically include:
Excavator

Foundation Installer

Septic Designer

Septic Installer

Well Digger

Rough Framing

Electric

Plumbing

Insulation

Drywall

Finish Carpentry

Etc….
The list can go on for quite some length depending upon the features required in the new home.
Finding and Hiring Home Construction Contractors and Subcontractors
Finding and hiring the right home construction contractors and subcontractors can be even more of a challenge. Start by talking with friends and relatives that may have recently completed a home remodeling or construction project. Also check with your local home improvement store or building supply center.
In addition, there are online based contractor referral agencies such as RemodelingAffiliate.com that maintain a nationwide list of screened and fully vetted out quality contractors. Once completing their free on-line form, 3 or 4 of their qualified contractors in your local area, with the particular skill set required, will contact you.
Hiring a General Contractor for your New Home Construction Project

When hiring a general contractor it is important that you get several bids and that their bids entirely conform to your new home construction blueprint plans and any addendums to the plans that you may have. 
Make sure their bids include this type of language in the contract so that they have no excuse to deviate from the plans to save costs or time. Finally, before signing a contract with a builder it is wise to have your attorney review it.
This is particularly important if you do not own the land on which the home is to be constructed, as you want to ensure that there are no leans or other types of encumbrances on the land associated with the new home.
So before embarking on a new home building project, make sure you have a good set of blueprints and a well thought-out and detailed plan. With these in hand you should be able to keep your new home construction costs under control and get the finished home you desire.
---
For more help on how to build a custom home, see my New Home Construction Bid Sheet.The New Home Construction Bid Sheet provides you with the knowledge you will need on how to plan for the building of a custom home, and what to look for when hiring contractors for your new custom home building project. It also includes a detailed cost breakdown table and spreadsheet for estimating your own new custom home building costs.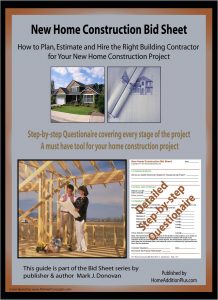 ---
Free Home Addition Price Quotes with No Obligation!
Fill out our 3-5 minute quick and easy form, and receive a free price quote on a house addition from one of our prescreened and licensed home addition contractors. This process is free and there is no obligation to continue once you receive your house addition price estimate.