What to Look for When Hiring a Custom Home Builder
By Mark J. Donovan







One of the most important aspects to consider when undertaking a new home building project is deciding on whom to hire as your home builder. 

However for many, just finding a home builder to even bid on the home building project can be difficult and confusing.

The best way to start is by word of mouth. Talk to your friends, family or neighbors who have recently undertaken a new or custom home building project.
Find out what home builders they used and if they would recommend them.
Real Estate agents are another great resource for finding local home builders. Real estate agents frequently work with builders on new home developments or custom home building projects.
They can tell you who to work with and who to stay away from. In addition, they may even be able to get you into some of the finished homes built by the home builders they are recommending. They are more than willing to do this as they may generate an immediate sale, or at a minimum demonstrate goodwill to one of their affiliate home builders which could payoff for them in the long run.
Another alternative for finding a new home builder is to use the services of ContractorKey. These two companies are becoming increasingly popular as a resource for find home building contractors for all types of trades, including; framing, electric, plumbing, roofing, etc. ContractorKey maintains a database of pre-screened and pre-qualified home building contractors. For a contractor to qualify to be a member of one of these firms they must go through a rigorous review process, including Better Business Bureau checks, licensing checks, and previous customer reference checks.




The advantage of these companies is that you do not have to pay for their services. Instead, the contractors pay membership fees to them. 

All you need to do to take advantage of their services is complete a simple on-line form that describes your project, budget and timeframe.
They will then notify one or more of their membership contractors located in your area, which will then get directly in touch with you. From that point forward you evaluate them for your specific project.
Before you hire a new home builder there are many important questions and tasks that need to be completed first.
There are the simple questions such as are they available to work on your home building project, and are they skilled in the particular type of home you are looking to build. Then there are the reference checks and the site visits of their previous projects.
If the initial research on your prospective new home builders are favorable, then its time to start the bidding/quotation phase. After you provide them with either a description or blue prints of your home building project, they need to develop a formal bid (quote) for your project, including the total cost, payment schedule, building time-line schedule, material types to be utilized, and who they plan on using for subcontractors (if any).
To simplify the bidding process you may want to consider HomeAdditionPlus.com's New Home Construction bid sheets. The bid sheets include a standard bid sheet form that you can provide to all of your prospective new home builder contractors. This sheet helps to level the playing field.

Once you have received the bids its time to evaluate them. It is during this time that great care has to be given in the review process. 
Not all contractors are the same and not all materials are the same. Consequently bids can vary widely.
This is where a little pre home construction knowledge on your part can ensure you get the new home or home addition you are looking for. In addition to HomeAdditionPlus.com's New Home Construction Bid sheets providing standard bid sheet forms, they also include information to the homeowner on what to look for and stay away from in terms of materials and contract services. In addition, they provide estimated costs and time intervals for the various aspects of the new home construction project.
After reviewing the bids from the prospective home builders, narrow your selection down to just a couple. Follow up with them and have a face to face meeting to go over the bid, reviewing any questions you may have with them or the bid.

Question them on specifics of their bid, and where there is initial disagreement see if there is compromise on the prospective builder's part. 
Determine which one appears to be most willing to work with you and is the most responsive to your needs. The home builder most willing to work with you, and that overall meets your budget and timeframe objectives, is probably the appropriate fit for your home building project.
With the selection of your home builder complete, you can now move on to the numerous material and appliance selection process.
---
For more help on Custom Home building, see HomeAdditionPlus.com's Home Addition Bid Sheets. The Home Addition Bid Sheets will help ensure that your home building project goes smoothly and is completed on time and budget.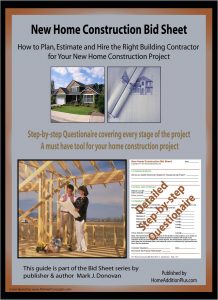 ---
Free Home Addition Price Quotes with No Obligation!
Fill out our 3-5 minute quick and easy form, and receive a free price quote on a house addition from one of our prescreened and licensed home addition contractors. This process is free and there is no obligation to continue once you receive your house addition price estimate.