Dormer Additions are ideal for Expanding Living Space and Letting in Natural Light
By Mark J. Donovan







Dormer additions are one of the most economical home addition projects you can consider when looking to gain more living space in your home.

Dormer addition benefits are many and they are particularly useful in Cape Cod or Gambrel style homes as they can provide additional natural light and more ceiling headroom to the upper level rooms. A bump-out dormer addition is also a great idea for an attic conversion project. 
Dormer additions are also excellent for small single story homes as they can create kitchen nooks and window seat areas, while letting in natural light.
One of the main advantages of dormer additions is that they are less expensive to build than any other type of home addition. Unlike a room addition, there is typically no excavation or foundation work required. In addition, there are no setback or easement concerns when building a dormer addition. As a result the building permit process is simpler and the construction costs are lower. In addition, much of the dormer addition can be framed into the existing roof line prior to punching through to the inside of the home.




This fact can help mitigate the inconvenience to the family during the construction of the dormer addition.

Dormer Addition Design Considerations

There are two dormer addition styles that you can choose from. First, there is the shed dormer. A shed dormer has a roof line that sits parallel to the existing roof that it ties into. It is relatively easy to construct and has the lowest installation cost. 
Shed dormers are typically constructed on the back or side of a home. They are less frequently used on the front of a home.
The second dormer addition style has a gable roof style. A gable roof style dormer addition has a roof line that sits perpendicular to the roof line that it ties into. A gable roof style dormer has a traditional roof look with two sloping sides that tie into their own ridge. A gable style dormer addition is more attractive than a shed dormer and thus is more frequently used on the front of a home.
A shed dormer is typically lower cost to construct than a gable roof dormer addition as its roof structure is simpler to build.
Dormer additions can also add character to a home if designed and built correctly. By including soffits that are consistent with the rest of the home and the use of specialty windows, the dormer addition can transform an otherwise boring roof line into an eye catching home.
Also, when designing the dormer addition make sure its roof line sits below the level of the ridge line of the main roof. In addition, dormer additions should be designed to accent a home and its roofline. Consequently dormer additions should be kept relatively small compared to the size of the room. Instead of building one large dormer addition you may want to consider two smaller dormer additions.
Finding a Dormer Addition Contractor

Installing a dormer addition is fairly complicated and thus it is not meant for the weekend do-it-yourself homeowner. Consequently it is important to find a qualified and professional home addition contractor when planning a dormer addition. Hiring the wrong contractor could lead to an eyesore globed onto the roof of your home if not careful.

To find a qualified and professional home remodeling contractor you may want to consider one of the national home building contractor referral companies.
These companies have large national databases of pre-screened and qualified home addition contractors. There is no cost to the homeowner for working with these contractor referral companies. You simply fill out a free online form for your specific home addition needs and they will forward your information on to 3 or 4 local contractors in your area. The contractors will then get in touch with you to set up a meeting and to review your dormer addition plans.
Obtaining Dormer Addition Contractor Quotes
When obtaining dormer addition contractor quotes from contractors it is important to make sure that they provide you with a complete home addition cost breakdown list of every phase of the project. The more detail in the home addition cost breakdown list, or bid sheet, the more likely an accurate home addition cost proposal.
To help in obtaining accurate and consistent home addition contractor quotes, see my Home Addition Bid Sheets. They provide a "request for quote" section that you can provide to prospective building contractors.

They also each include a comprehensive home addition cost breakdown table, in Microsoft Excel format, that allows the contractor to include his projected home addition costs for every phase of the project.
When interviewing potential home addition contractors make sure to check their references. Usually a good litmus test for evaluating a home addition building contractor is to see how long their reference list is.
The longer the list is, the higher the likelihood that he has a solid reputation. A long reference list also helps to get a feel for how long he has been in business and his level of pride in his work.
Regardless of the length of the reference list, it is important to contact at least 3 or 4 of the references. Contact a couple of more recent projects completed by the contractor and a couple 2-5 years out in the past. You may also want to visit, or drive by the references to see their work first hand. This way you can see how the contractor has been trending with his work, as well as to see how his work has held the test of time.
So if you are looking to add a little more living space to your home and/or desire more natural light, then a dormer addition may be the right choice for you. By planning ahead and hiring the right home addition contractor you can ensure a smoother dormer addition project.
For more help on building a home addition, see HomeAdditionPlus.com's Home Addition Bid Sheets. Our Home Addition Bid Sheets provide you with the knowledge and information on how to plan a home building project, and what to look for when hiring contractors. They also include detailed cost breakdown tables and spreadsheets for estimating your own new home construction building costs.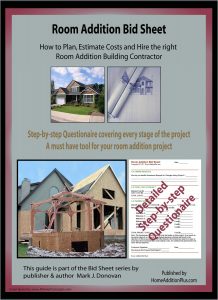 Related Information on Dormer Addition Benefits and Room Additions 
---
Free Home Addition Price Quotes with No Obligation!
Fill out our 3-5 minute quick and easy form, and receive a free price quote on a house addition from one of our prescreened and licensed home addition contractors. This process is free and there is no obligation to continue once you receive your home addition price estimate.