Installation of New Boiler and Increased Insulation of Attic Heat Exchanger Ductwork Dramatically Lowered Home Heating Costs
By Mark J. Donovan


In this video Mark Donovan of HomeAdditionPlus.com explains how the installation of a new boiler system and beefing up the insulation of his attic heat exchanger ductwork translated into a large reduction in his home heating costs.
The Home Heating Problems
About a year and a half ago I contacted Jeremy St. Amour from Cardigan Mountain HVAC of Alexandria, New Hampshire to discuss with him my home heating problems and what I could do to resolve them.
He came out to my home and I explained to him that I had purchased the house two years earlier, and that I had experienced home heating oil costs much higher than I could have ever have imagined. In addition, I showed him rust colored staining on the side of my house and on my roof, near the chimney vent associated with the oil fired boiler.
He immediately addressed my second concern first. He said that the rust staining on my roof shingles and house siding was associated with bi-product emissions of the home heating oil that was being burned in our furnace, and that the specific reasons for it were two fold.

First, my Peerless boiler and burner were very old and inefficient.

Second, unlike a masonry chimney, the stainless steel chimney that we have is more prone to condensation issues, and cannot absorb any of the bi-product oil emission moisture in the liner walls. It's stainless steel.
We then went up to my attic to take a look at the hot water to hot air heat exchanger.
He immediately pointed out to me that the plenum trunk and flex ductwork tubing that fed the heating ducts to the finished rooms on the second floor of my house were not insulated. He showed me the R-4.4 insulation factors marked on the plenum and flexible ductwork tubing. Very low insulation levels.
The Home Heating Recommended Solutions
His first advice was to replace the old Peerless boiler/burner system with a new and much more energy efficient Buderus G115/WS4 boiler with Logmatic control, and a Riello burner. He indicated that the Buderus/Riello boiler/burner system would do a much better job of heating the home and reducing the amount of home heating bi-product oil emissions exiting the chimney. Thus, I should see some significant home energy costs savings and see no more additional staining on my roof and house siding. I was immediately sold and said, "So when can you put it in?"
In regards to the attic heat exchanger problem, he suggested I insulate all of the ductwork in the attic. He suggested I either blow in insulation or wrap the attic ductwork with insulation. I chose to do the latter.
Home Heating Cost Saving Results

I had the new Buderus boiler and Riello burner installed in February of 2014. However, I didn't get around to insulating the attic ductwork until the spring of that year.

I wrapped the plenum with R-11 (3-1/2 inch thick) faced insulation, and I also covered much of the feed flex tubing ductwork with the same insulation.
The Results: Recently my wife and I sat down and looked at our home heating oil consumption from February 2014 to February 2015.
We calculated a savings of nearly 27% on the number of gallons of home heating oil burned during that period compared to the same period a year earlier. More impressive was the fact that the 2014/2015 winter was much colder than the previous one.
Also, this spring I did not need to go out and re-paint the side of my house again. Since moving into the home, each spring I had to go out and re-paint the side of the house where the rust color stain, associated with the oil byproduct emissions, slid off the roof when it rained, bounced off the deck and stained the house siding. Due to the fact that the new Buderus boiler and Riello burner were burning the home heating oil much more efficiently, there was a dramatic reduction in the oil byproduct emissions exiting my chimney. Thus, not only do I no longer need to paint the side of my house every spring, I'm saving money, and reducing fewer emissions into the atmosphere.
Conclusions
If you are a homeowner experiencing one or both of the home heating problems that I was dealing with, and want to save on home energy costs, I highly recommend calling an HVAC professional. Have them come out and inspect your existing home heating system and make the appropriate recommendations.
Suffice it to say, if you have a 25 year old furnace system like I did, you can certainly expect to reduce your home energy costs by replacing it with a new and much more efficient system. Also, if you have a heat exchanger up in your attic, I suggest you go take another look at it. If it is not thoroughly wrapped in insulation, make it your next DIY project on a cool day.
---
For information on how to maximize a wood stove's heating efficiency, see HomeAdditionPlus.com's Installation of Hood over Wood Stove eBook.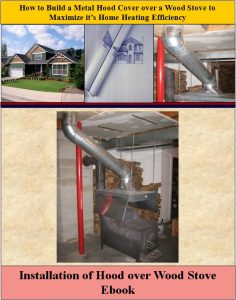 Related Information
---
Additional Heating and Cooling Resources from Amazon.com
---
Free Heating and Cooling Price Quotes with No Obligation!
Fill out our 3-5 minute quick and easy form, and receive a free price quote on heating & cooling from one of our pre-screened and licensed HVAC contractors. This process is free and there is no obligation to continue once you receive your heating & cooling price estimate.