An Insulated Concrete Slab Floor will Keep Your Home Warmer and Lower your Home Heating Costs
By Mark J. Donovan







Uninsulated concrete floors can be cold to walk on and make the living space uncomfortably cold.

If you have plans to finish a basement or your home sits on a cold concrete slab you may want to consider insulating the concrete floor.

Insulating a concrete slab floor can make a living space feel much more comfortable and can save on your home's annual energy bills. The key process in insulating a concrete slab floor involves building a plywood subfloor over the concrete slab.
Besides making the living space warmer, a plywood subfloor is also the perfect surface for installing carpet or wood flooring. The subfloor provides a moisture barrier and a nailing surface for installing the carpet or wood floors.
Before installing a subfloor over the concrete slab it's important to check for adequate headroom height. Building codes typically require 7 feet 6 inches of clearance between the finished floor and ceiling.
The typical subfloor has a height of 2-1/4" and a finished wood floor could add another ¾ inch. So from the concrete slab to the finished ceiling you need a minimum of 7 feet 9 inches of height to install a subfloor over the concrete slab.
After confirming there is sufficient height to build a subfloor and insulate the concrete slab floor, evaluate the state of the concrete slab.

If there are water problems they need to be addressed first. Use hydraulic cement or some other type of concrete crack repair product to seal cracks. If there are high spots on the concrete floor you may need to grind them down a bit.
After evaluating and repairing the concrete slab, vacuum it thoroughly and apply a concrete water sealer to its surface.
Next, cover the entire concrete slab with 6 mil thick polyethylene plastic. The plastic acts as a moisture barrier.
Make sure seams overlap by 6 inches and apply duct tape to the seams. Also, the plastic should extend up the perimeter walls by 6 inches and should also be sealed if possible with duct tape.
A grid of pressure treated 2×4 sleepers can then be installed over the concrete slab. The 2x4s should be placed on their flat sides. Learn more finishing basement floors here.
Install sleepers by first installing them around the perimeter of the concrete slab floor. Butt them end to end and fasten them to the concrete floor with 2-1/4 inch long masonry nails. Nails should be spaced every 3 to 4 feet.

Then fill in the perimeter sleeper framework with additional sleepers, making sure they are installed on 16 inch centers.

As you install the sleepers constantly check that they are level and use shims when necessary.

The next step in insulating the concrete slab floor involves installing rigid foam insulation (1-1/2 inch thick) in between the sleepers. 
Measure carefully to ensure a snug, but not tight, fit. The goal is to leave no air gaps in between the sleepers while not compressing the insulation in the process.
After installing the insulation, place ¾ inch tongue and groove plywood over the network of sleepers. When installing the plywood start alternate rows with half sheets of plywood. This helps to lock in the plywood pieces and create a stronger subfloor surface. Fasten the plywood to the sleepers with 6d nails. Apply nails every 12 inches under the plywood panel centers and every 6 inches along the plywood panel seams.
With the subfloor installed and your concrete slab floor insulated you can then install your preferred finished flooring.
---
For help on finding a wood flooring installation contractor, see HomeAdditionPlus.com's Wood Flooring Installation Bid Sheet. It will help ensure that you find and hire the right flooring installation contractor for your wood flooring project. In addition, it will help to ensure that your wood floor installation is completed on time and on budget.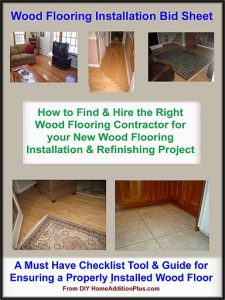 Related Information
---
Additional Flooring Resources from Amazon.com
---
Free Home Addition Price Quotes with No Obligation!
Fill out our 3-5 minute quick and easy form, and receive a free price quote on a house addition from one of our prescreened and licensed home addition contractors. This process is free and there is no obligation to continue once you receive your house addition price estimate.