How to Install Baseboard Trim so that it is Fastened Snuggly up against Walls
By Mark J. Donovan







Question: Mark, thanks for making the video on "

Installing Baseboard Trim

". I have a question though on how to nail baseboard trim to walls.

When nailing baseboard trim to the wall why is it necessary for me to find a vertical beam every single time?

I thought the carpenters installed a wood beam horizontally on the floor, along with the vertical beams to make a wall structure to hang drywall on it.
If they installed the horizontal wood beam I would think that I should be able to just nail the baseboard trim into this beam, as long as I placed the nails really low to the floor so it catches the beam, right? (OC)
Answer: OC,

framed stud walls

are constructed out of a set of horizontal and vertical members. Typically 2x4s or 2x6s are used to construct the stud walls. 

The horizontal members consist of a bottom plate, which is what you are referring to, and a top plate along with a cap plate that may tie adjacent sections of stud walls together. 
Sitting between the top and bottom plates are vertical wall studs that are typically placed on 16 or 24 inch centers. Learn more about how to frame walls here.
The problem with just nailing the bottom edge of the baseboard trim to the bottom plate is that the bottom plate is only 1.5″ thick and sits on the subfloor.
Nailing baseboard trim along just the bottom edge of it is inadequate for properly fastening baseboard trim. If you only nail the bottom edge of the baseboard trim, the top edge of the baseboard trim will wind up having a large seam or gap with the wall.

This is further exacerbated if you are nailing baseboard trim that is sitting on a newly installed wood floor or ceramic tiled floor. The plate nailing surface area is partially buried by the thickness of the wood or ceramic tiled floor. 
As a result you may end up not hitting the bottom plate when attempting to nail the baseboard trim to the wall. Consequently this is why you need to find out where the vertical studs are so that you can nail the baseboard trim along the upper edge every 16 or 24 inches, depending upon the vertical stud spacing.
How to Nail Baseboard with Nail Gun
Once you've located the vertical wall studs use a hammer, or preferably a nail gun, and sink two nails into the baseboard trim at each vertical wall stud position. One nail should be placed about an inch up from the bottom of the baseboard trim, into the bottom plate, and the other nail about an inch from the top of the baseboard trim, into the vertical wall stud.
---
Dress Up Your Home with Crown Molding – For specific instructions on installing crown molding see the "Installing Crown Molding Ebook".  The "Installing Crown Molding Ebook" will show you how to properly measure, select, cut and install crown molding like a professional carpenter.  It provides detailed instructions on every step in the process of installing crown molding and includes 28 instructional pictures! Order and Immediately Download today!. 100% Money-Back Guarantee if you are not satisfied.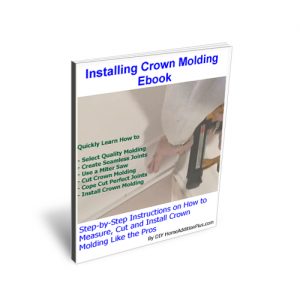 For information on installing Window and Door trim see HomeAdditionPlus.com's  Installing Interior Window Trim Ebook and  Installing Interior Door Trim Ebook.  These Ebooks are loaded with pictures and provide easy to understand, step-by-step instructions, on how to install interior window and door trim.
Related Information on How to Nail Baseboard Trim
---
Additional Finish Carpentry Resources from Amazon.com
---
Free Home Addition Price Quotes with No Obligation!
Fill out our 3-5 minute quick and easy form, and receive a free price quote on a house addition from one of our prescreened and licensed home addition contractors. This process is free and there is no obligation to continue once you receive your house addition price estimate.