A Coping Saw is the Ideal Tool for Making Perfect Inside Corners when Installing Baseboard Trim or Molding
By Mark J. Donovan







In this video, Mark Donovan of HomeAdditionPlus.com shows how to cope an inside corner when installing baseboard trim, and using a miter saw and coping saw.

Most inside corners are not perfectly 90 degrees. Consequently if you simply cut two pieces of baseboard trim at 45 degree angles and expect to get a perfect inside joint you're going to be sadly disappointed.

Fortunately there is a way to get that perfect inside corner using a a miter saw and a coping saw.
Simply nail into place one piece of baseboard trim up against one of the walls. The end of the board should be be square cut and butt up into the adjacent wall.
Next, cut one end of a second piece of baseboard trim at a 45 degree open faced angle.

Then using your coping saw, back cut at a 45 degree angle the piece of baseboard trim along the paint/prime line.
After making the coped cut, place the trim board into place up against the adjacent wall. You should observe that by making this type of coping cut you will have created the perfect 90 degree inside corner.
---
Dress Up Your Home with Crown Molding – For specific instructions on installing crown molding see the "Installing Crown Molding Ebook".  The "Installing Crown Molding Ebook" will show you how to properly measure, select, cut and install crown molding like a professional carpenter.  It provides detailed instructions on every step in the process of installing crown molding and includes 28 instructional pictures! Order and Immediately Download today!. 100% Money-Back Guarantee if you are not satisfied.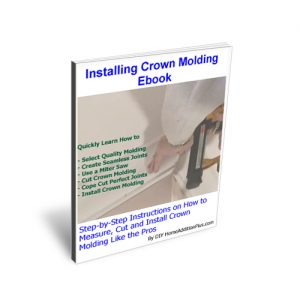 For information on installing Window and Door trim see HomeAdditionPlus.com's  Installing Interior Window Trim Ebook and  Installing Interior Door Trim Ebook.  These Ebooks are loaded with pictures and provide easy to understand, step-by-step instructions, on how to install interior window and door trim.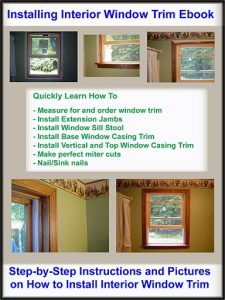 Related Information
---
Additional Finish Carpentry Resources from Amazon.com
---
Free Home Addition Price Quotes with No Obligation!
Fill out our 3-5 minute quick and easy form, and receive a free price quote on a house addition from one of our prescreened and licensed home addition contractors. This process is free and there is no obligation to continue once you receive your house addition price estimate.