The Benefits of Motion Activated Exterior Lights
By Mark J. Donovan







Recently I decided to replace my home's exterior lights with new motion activated exterior lights.

Motion activated exterior lights look exactly like traditional exterior lights, except that they come with motion sensors and control switches to program their sensitivity and use.

The benefits of motion sensor lights include safety, security, energy savings and convenience.
Motion activated exterior lights are available in numerous styles and finishes so your choices are nearly unlimited.
At the heart of a motion activated light is an infrared sensor that detects infrared waves, or heat waves, that radiate from moving objects.
When the infrared sensor detects movement it turns on the light for a period of time. The length of time the light remains on can typically be adjusted from 1 to 20 minutes.
Depending upon the particular model, most motion activated exterior lights have detection angles that range from 180 to 240 degrees, and detection ranges of 30 to 70+ feet. During daylight hours a photocell prevents the light from turning on.
The only knock on motion activated exterior lights is that nuisance events can trigger the infrared sensor and cause the exterior light to turn on.
Windswept leaves, passing small animals and even passing cars can sometimes trigger the light to turn on. Fortunately, with most models you can adjust the field of view, including the detection angle and detection range, to mitigate these types of nuisance triggers. In some cases you can also improvise by applying a piece of electric tape over a portion of the infrared sensor to reduce the field of view. In addition, depending upon the particular light model, you may be able to adjust the angle of the sensor altogether.
In addition to being sensor activated, motion activated exterior lights can also work in the conventional mode by simply toggling the wall light switch off and on.

By toggling the light switch off and on, the light will remain on regardless of whether or not it senses motion. Some models also support the ability to turn on at dusk, and remain on until dawn.
When installing a motion activated exterior light it is best to locate it approximately 6 to 10 feet off of the ground and in locations that are near egresses to your home, for examples walkways, patios, garage doors.
As for actually installing a motion activated exterior light make sure to first read the instruction manual carefully. Most are installed exactly as a conventional light.
They typically have three wires that are designed to tie into your existing home's wiring. The wires include a black wire (hot), a white wire (neutral), and a green or bare copper wire (ground).

When replacing a conventional exterior light with a motion activated exterior light, make sure that you first turn power off at the main circuit breaker box.

In addition, use wire nuts to connect the house wires and light wires together.





Also make sure that the light is properly grounded to the electrical box. Lastly, make sure you seal around the light fixture with a waterproof caulk.
After installing a motion activated exterior light expect to spend a couple of evenings adjusting it for your personal preferences.
So if your home's exterior lights are looking a little worn and you want to replace them, consider motion activated exterior lights. Besides providing additional home security, motion activated exterior lights can also provide you with added convenience and energy saving benefits.
---
For help on building a new custom home, see HomeAdditionPlus.com's New Home Construction Bid Sheet. The New Home Construction Bid Sheet provides you with the knowledge on how to plan a custom home building project, and what to look for when hiring contractors for your new home construction. It also includes a detailed cost breakdown table and spreadsheet for estimating your own new home construction building costs.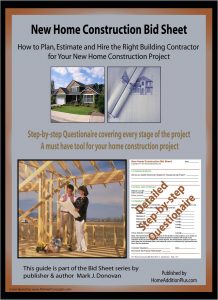 Related Information
---
Additional Electrical Wiring Resources from Amazon.com
---
Free Home Addition Price Quotes with No Obligation!
Fill out our 3-5 minute quick and easy form, and receive a free price quote on a house addition from one of our prescreened and licensed home addition contractors. This process is free and there is no obligation to continue once you receive your house addition price estimate.