How to Prevent and Repair Bubbling and Peeling Drywall Paper Tape
By Mark J. Donovan







If your new drywall work is showing signs of bubbling, or is literally peeling off your walls, then the paper drywall tape was not applied properly.

It is important when applying paper drywall tape that it be properly pressed into a skim coat layer of mud, or joint compound.

When applying drywall paper tape to the joints and seams it is important to first apply a liberal amount of joint compound (approximately 1/8th inch) to them.
This first application of joint compound is typically referred to as the "skim coat" or "bedding coat" layer, however it is important not to skimp too much when troweling on this first layer of mud / joint compound.
As a matter of fact, drywall sheets are dimpled on the edges that are expected to butt up against other drywall sheets to allow for the drywall tape and skim coat of mud.
Also, when applying the drywall tape to the seams that have been freshly skim coated it is important not to press too hard with the trowel. Pressing too hard will cause the joint compound to be squeezed out from behind the drywall tape. As a result, the drywall tape will not adhere to the wall sufficiently.
The situation is exacerbated when the next layer of joint compound is then applied over the tape. The drywall tape will absorb the moisture of the second application of joint compound and actually cause the drywall tape to wick away from the drywall. This is what causes the peeling or bubbling of the drywall tape.

The ideal solution for repairing the bubbling or peeling drywall tape is to remove it and start over with the application of new drywall tape and joint compound.
If there are only a few bubbles, or only one small section of peeling tape, you can slit the tape with a razor blade, and using a small trowel apply joint compound underneath the paper and then press the paper into the joint compound with your trowel.
Once it has dried, apply additional joint compound over the tape. Once this coat has dried, apply one additional coat of joint compound and then sand lightly, making sure to feather out the edges.
---
For information on repairing a large drywall hole, see the "How to Repair a Large Drywall Hole" Ebook from HomeAdditionPlus.com.  The "How to Repair a Large Drywall Hole" Ebook provides step-by-step instructions on how to repair your damaged wall so that it looks as good as new.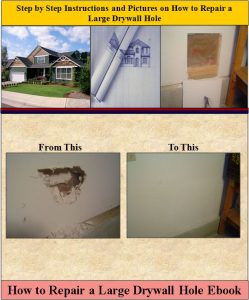 Related Information
---
Additional Drywall Installation Resources from Amazon.com
---
Free Home Addition Price Quotes with No Obligation!
Fill out our 3-5 minute quick and easy form, and receive a free price quote on a house addition from one of our prescreened and licensed home addition contractors. This process is free and there is no obligation to continue once you receive your house addition price estimate.