Toilet Seat Cover Replacement is Easy, Fast and Inexpensive to Do
By Mark J. Donovan


Mark Donovan of HomeAdditionPlus.com shows how to replace a toilet seat cover in this video.
Toilet seat covers crack and break easily. Replacing a toilet seat cover is easy to do and the cost for a new toilet seat cover is typically under $30. All you typically need for tools to replace a toilet seat cover is a common and/or Philips screw driver.
To replace a toilet seat cover simply lift up the bolt covers on the back of the toilet seat and then remove the bolts.
You'll need either a wide common screw driver or large Philips screw driver to remove the bolts. You'll also need to use your fingers with your other hand to hold onto the nuts on the underside of the toilet bowl while loosening up the bolts.

After removing the bolts and old toilet seat cover place the new toilet seat cover into position and thread the new bolts that come along with it into the holes.

Then secure the nuts to the back of the bolts on the underside of the toilet bowl.
Once the nuts have been threaded onto the bolts use your screw driver to tighten up the bolts. Again use your other hand to hold each nut in place while you tighten up each bolt.
As you tighten up the bolts make sure the toilet seat cover is positioned straight over the toilet bowl. Also, don't over-tighten the bolts. You don't want to accidently break the porcelain toilet bowl.
---
For help on your bathroom remodeling project, see my Bathroom Remodeling Bid Sheet. The Bathroom Remodeling Bid Sheet provides a request for quote checklist section that you can provide to prospective bathroom remodeling contractors. It also includes a comprehensive bathroom remodeling cost breakdown table, in Microsoft Excel format, that allows the contractor to include his projected remodeling costs for every phase of the project.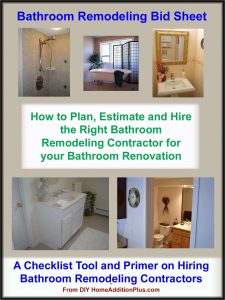 Related Information on How-to Bathroom Repair and Installation Projects
---
Additional Bathroom Remodeling Design Resources
---
Get Free Bathroom Remodeling Price Quotes with No Obligation!
Fill out our 3-5 minute quick and easy form, and receive a free price quote on bathroom remodeling from one of our prescreened and licensed bathroom remodeling contractors. This process is free and there is no obligation to continue once you receive your bathroom renovation price estimate.