Address all Basement Moisture and Water Issues before Starting a Finished Basement Project
By Mark J. Donovan







In this video Mark Donovan of HomeAdditionPlus.com shows how to check for basement floor moisture.

If you are thinking about finishing your basement make sure that any threat of basement water or moisture issues have been permanently eliminated first. If not, you could end up wasting a lot of time and money finishing your basement. Basement water issues, and even high moisture levels, will lead to mold and mildew growth in your finished basement.
Within months of finishing a basement, high moisture levels can cause mold to begin to show up on your finished drywalls, and any other areas of the finished basement where there is little air flow and not a lot of natural light.
It will also grow behind the finished walls, on the back of the drywall, and underneath the basement flooring.

Testing for Moisture in Basement Floor

To determine if your basement slab floor has high moisture levels percolating up through it, simply tape down a few small patches (2 inches by 2 inches) of clear plastic using duct tape around the edges of the plastic patches. 

Tape the patches down in several locations around the basement floor.

 
Then inspect the patches 24 to 48 hours later. If you see moisture adhering to the underside of the plastic then you know you have a basement floor moisture problem.
How to Solve Basement Moisture Problem
To resolve a basement moisture problem contact a basement waterproofing contractor. They may end up recommending installing a perimeter drain around the foundation of your home. They may also recommend some type of epoxy sealer for the basement floor and walls. Note that simply painting your basement floor won't solve the problem. Moisture will work its way up through the paint over time.
For more help on Basement Additions, see HomeAdditionPlus.com's Basement Remodeling Bid sheet. The Basement Remodeling Bid Sheet will help ensure that your hire the right contractor so that your basement remodeling project is done correctly and you get the project finished on time and budget.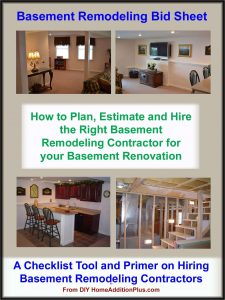 Related Information
---
Get Free Basement Remodeling Price Quotes with No Obligation!
Fill out our 3-5 minute quick and easy form, and receive a free price quote on basement remodeling from one of our prescreened and licensed basement remodeling contractors. This process is free and there is no obligation to continue once you receive your basement remodeling price estimate.