Obtaining Basement Remodeling Cost Estimates and Evaluating Basement Remodeling Contractor Bids
By Mark J. Donovan







A basement remodeling project is a great way to transform an underutilized area into a comfortable living space.

Basement remodeling cost estimates can vary depending upon how elaborate the basement remodeling plans are.

However, compared to other home remodeling options basement remodeling costs are typically less expensive. 
The main reason for this is that unlike a room addition, excavation, exterior framing and roofing are not necessary with a basement remodeling project. Also, in general fewer high priced ticket items such as exterior doors and windows are required.
When soliciting basement remodeling contractor bids there are several key areas that should be included in the basement remodeling costs estimates.
Basement Waterproofing and Plumbing Insulation
Before starting any basement remodeling project it is extremely important to address any basement water problems. Basement waterproofing of the walls and floor may be necessary. In addition, it is wise to make sure all plumbing supply lines are insulated properly before hanging drywall or a dropped ceiling in the basement. Make sure a basement contractor bid includes these important items as part of the basement remodeling cost estimates.
Often they are considered separately, or as a precursor to the actual basement remodeling project, however no matter how it's sliced these items are basement remodeling costs and need to be accounted for.




Basement Remodeling and Lighting

Lighting is a major consideration in a basement remodeling project and is a significant basement remodeling cost. Without proper lighting even a finished basement can appear dark and uninviting.

Every basement remodeling plan should incorporate as much possible natural light as possible.

In addition, a minimalist approach should be taken on basement window treatments to maximize the entry of natural light. 

 
After natural lighting has been considered artificial lighting should be designed into the basement remodeling plans accordingly.
Generous use of overhead ceiling lights, e.g. can lights, is a great way to make a remodeled basement feel bright and roomy. In addition, the inclusion of floor and table lighting can make a remodeled basement feel warm and inviting.
Basement Flooring

Flooring is yet another major basement remodeling cost that needs to be carefully considered. Not all flooring products are appropriate for a basement and in many cases special floor prep work is required before installing a finished basement floor.

Finished Basements and Bathrooms /Wet bars

The inclusion of a bathroom or wet bar in a basement remodeling plan can add dramatically to basement remodeling costs as special plumbing is required. 
To install drain pipes, the basement concrete slab needs to be cut and in some cases pump-up ejector systems and holding tanks need to be installed. Suffice it to say that this is major dirty, dusty and noisy work.
In addition, the septic design may need to be modified to support an additional bathroom and a pump-up ejector system. Think long and hard before including a bathroom or wet bar in a basement, as both can add dramatically to basement remodeling cost estimates.
Framing, Insulation and Finished Basement Walls

Framing, wall insulation, and the type of finished wall coverings such as using moisture resistant drywall need to be carefully considered.

Framing around HVAC plenums and various plumbing pipes can dramatically add to basement remodeling cost estimates, and in moist areas, such as in a basement, the use of pricier moisture resistant drywall is wise. 
In addition, insulating and including a vapor barrier between finished basement walls and the basement foundation is critical for preventing condensation and moisture issues in the finished basement.
Basement Remodeling Themes, Paint Schemes and Accessories
Finally, custom themes, paint schemes and accessorizing are three other major areas of consideration in a basement remodeling project. Part of any basement remodeling project should be the incorporation of a custom theme and a touch of personal flair, e.g. a sports bar theme and the use of dramatic and inviting paint colors. The more interesting and exciting finish touches that can be included in the remodeled basement, the more often family and friends will want to spend time in it.
Need Additional Information on Basement Remodeling?
A basement remodeling project is a major undertaking, as it involves extensive work and costs. It is vitally important to hire the right basement remodeling contractor to ensure a successful project and to avoid cost overruns and major headaches. HomeAdditionPlus.com offers a Basement Remodeling Bid Sheet that helps you find the right basement remodeling contractor for your project, as well includes a basement remodeling cost estimating spreadsheet tool, and other tips and advice to ensure a successfully finished basement
---
For more help on Basement Additions, see HomeAdditionPlus.com's Basement Remodeling Bid sheet. The Basement Remodeling Bid Sheet will help ensure that your hire the right contractor so that your basement remodeling project is done correctly and you get the project finished on time and budget.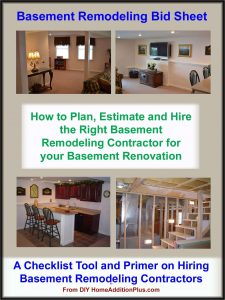 Related Information on Basement Remodeling Costs
---
Get Free Basement Remodeling Price Quotes with No Obligation!
Fill out our 3-5 minute quick and easy form, and receive a free price quote on basement remodeling from one of our prescreened and licensed basement remodeling contractors. This process is free and there is no obligation to continue once you receive your basement remodeling price estimate.