Improving an Attic can be a Cost Effective way for Creating More Finished Living Space within Your home however Upfront Research and Planning are Key
By Mark J. Donovan







Do you have a large unfinished attic with plenty of headroom?

Do you have a stairway to easily access your attic?

Is your home cramped for more finished living space?

If the answer is yes to all three of these questions then finishing your attic may be an ideal solution for creating extra living space for either a bedroom or home office.
Though an attic conversion may be possible based upon how you answered the above questions, be forewarned finishing an attic takes some significant planning and work. 
Summarized below are some key tips on how to finish an attic and create the finished living space you desire.
Once you've determined your attic has passed the sniff test for finishing, next comes the task of assessing the structural integrity of the attic framing. First and foremost, if your attic is filled with roof trusses that impede on headroom, then finishing your attic is not possible, at least without not having to replace the roof.
If on the other hand there are only a few trusses used in a portion of the attic you can work around them in your finished attic design plans. Never cut a roof truss without first seeking the advice of a professional structural engineer. Cutting even a single member of a roof truss could severely weaken the integrity of the roof and could lead to an eventual roof collapse.




Second, examine the attic flooring, or ceiling joists from the lower level. Often the lower level ceiling joists are not adequate in size to support the weight and use of a finished living space.

Again, work with an architect or structural engineer to determine if your attic floor joists (lower level ceiling joists) are adequate for finishing an attic. 
Often the solution to undersized attic floor joists is to sister larger lumber to the existing joists.
The third major concern when planning to finish an attic involves potentially moving heating and air conditioning equipment.
Often HVAC equipment is located in the attic. In some cases it may not be easily moved. If you have HVAC equipment in your attic check with an HVAC contractor to see what your options are for relocating or replacing it.
Insulation is also another major concern when finishing an attic. Attics can be extremely hot during the summer months and just as cold during the winter ones. Consequently it is vital when finishing an attic to have plenty of insulation installed, and installed correctly.

The next item on the "how to finish an attic" planning checklist is lighting. Make sure to include in your attic conversion budget funds for the installation of natural lighting, e.g. via skylights, the installation of windows on the gable ends of the attic space, or the inclusion of a dormer(s) with a window(s).
In addition, make sure to include copious amounts of electrical lighting, particularly if natural lighting is not available in your attic conversion budget.
Lastly, prior to the start of finishing your attic make sure to check with your local building inspector to fully understand all of the rules and building codes for finishing an attic, and to pull the appropriate permits.
To obtain a building permit you'll need to show the building inspector a copy of your finished attic plans, along with projected materials and overall project costs. In particular, the building inspector will want to see framing and cross-sectional structural drawings of the attic to ensure your finished attic design plans are safe and to code.
---
For help on Attic Conversion and Attic Renovation Projects, see HomeAdditionPlus.com's Attic Conversion Bid Sheet. The Attic Conversion Bid sheet will help to ensure that you hire the right contractor so that your attic conversion project is built correctly, on time and budget.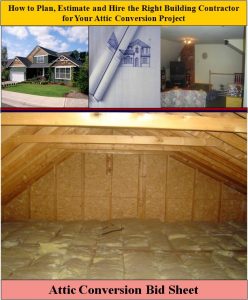 Related Information on How to Finish an Attic
---
Additional Attic Conversion and Home Remodeling Design Resources
---
Free Home Addition / Attic Conversion Price Quotes with No Obligation!
Fill out our 3-5 minute quick and easy form, and receive a free price quote on a attic conversion from one of our pre-screened and licensed home remodeling contractors. This process is free and there is no obligation to continue once you receive your attic conversion price estimate.