An Attic Ventilation System is Comprised of Roof Vents and Soffit Vents
By Mark J. Donovan







Mark Donovan of HomeAdditionPlus.com discusses attic ventilation systems and the benefits they provide to your home.

Attic ventilation systems typically consist of soffit vents located in the under-side of the roof eaves and roof vents.

A continuous ridge vent is one the most common types of roof vents, however individual turbine vents and mushroom cap vents are also fairly common.
An attic ventilation system is designed to remove hot air during summer months, and warm moist air during winter months, from the attic. By eliminating the hot and/or warm moist air, the attic can maintain a cooler and drier climate.
A cooler attic helps to extend the life of the roofing shingles as well as provide a more temperate environment in the home's living space.
An attic ventilation system also helps to maintain a lower humidity level in the attic thus preventing the threat of mold and mildew growth.

Also, by eliminating the warm moist air during the winter months, ice dams can be prevented with an attic ventilation system.
The standard ratio of soffit vent to ridge vent is 1:300 when using continuous venting systems such as ridge vent and soffit vent to create an attic ventilation system.
What this specifically means is that for every 300 square feet of insulated ceiling space with a vapor barrier, there should be 1 square foot of attic ventilation.

If a vapor barrier is not used with the insulation, or if non-continuous vents are used, that ratio drops to 1:150.

The standard ratio of soffit vent to ridge vent is 50/50, though some builders prefer a ratio of 40/60 with 60% being soffit vent.





---
For help on Attic Conversion and Attic Renovation Projects, see HomeAdditionPlus.com's Attic Conversion Bid Sheet. The Attic Conversion Bid sheet will help to ensure that you hire the right contractor so that your attic conversion project is built correctly, on time and budget.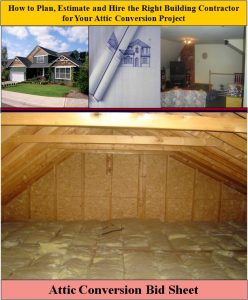 Related Information
---
Additional Attic Conversion and Home Remodeling Design Resources
---
Free Home Addition / Attic Conversion Price Quotes with No Obligation!
Fill out our 3-5 minute quick and easy form, and receive a free price quote on a attic conversion from one of our pre-screened and licensed home remodeling contractors. This process is free and there is no obligation to continue once you receive your attic conversion price estimate.